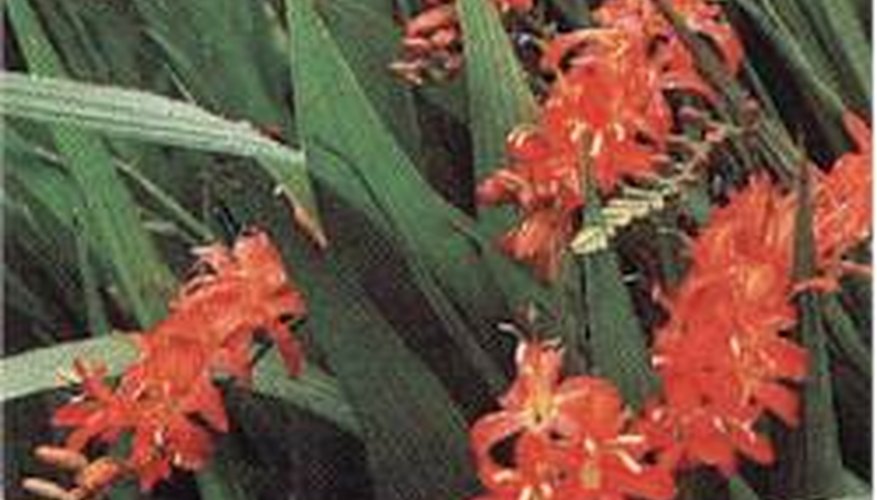 by Jackie Carroll
Even if you don't live in the tropics, you can enjoy exotic tropicals in your garden. This article focus on tropical bulbs that can be grown in any climate. These bulbs thrive in the heat of mid- to late summer, and most will withstand dry spells without complaint. They are not difficult to grow, but you may have to dig the bulbs once the foliage dies back in fall, and store them in your basement or garage where they won't be subjected to freezing temperatures over winter.
Some of these bulbs may not be as readily available in your local garden center as the more familiar summer bulbs, but a good mail order catalog will carry most of these flowers. Order your bulbs in late winter or early spring, and plant them once the danger of freezing temperatures has passed. Plant them twice as deep as the bulb is thick. For instance, if your bulb is two inches across, plant it four inches deep.
If your growing season is short, plant the bulbs in large pots in March or April, and bury the pots in the garden after your last frost date.
Note: I've been a bit free and loose with the term "bulb". Some of these plants grow from corms and rhizomes.
Favorite Tropical Bulbs: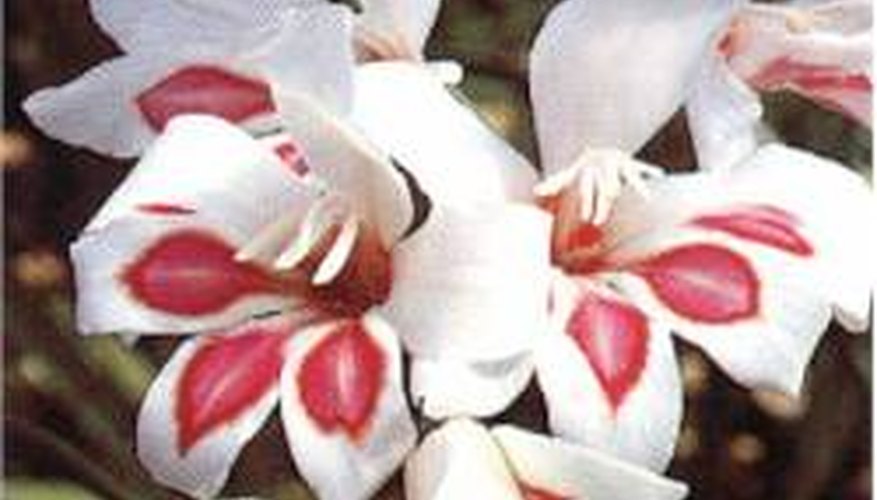 Acidanthera (Acidanthera bicolor) - shown at right
Height: 2-3 feet
Flowers: 2-3 inches wide and 5 inches long, very fragrant
Acidanthera blooms in late summer and fall, and is excellent for cutting. Zones 6 and colder will need to dig these bulbs for winter storage.
Chinese Ground Orchid (Bletilla striata)
Height: 12 inches
Flowers: 1-2 inches across, clusters of 7-12 flowers per stem
B. striata blooms from early to mid-summer, and B. striata 'alba' blooms from mid-summer until frost. Flowers are a good bit smaller that florist corsage orchids, but they are very fragrant and long-lasting cut flowers. Zones 6 and colder will need to dig these bulbs for winter storage.
Montbretia (Crocosmia) - shown above, left
Height: 2-4 feet
Flowers: 1-2 inches wide in shades of red, orange and yellow.
Montbretia blooms for four weeks or more in mid-summer. Cut flowers will last up to two weeks. Provide some afternoon shade in very hot, dry areas. Corms are hardy to zone 6.
Summer hyacinth (Galtonia candicans)
Height: 4 feet or more
Flowers: 1-2 inch bell-shaped, white flowers.
These fragrant flowers bloom in July if planted in March. The bulbs are hardy all the way to zone 5.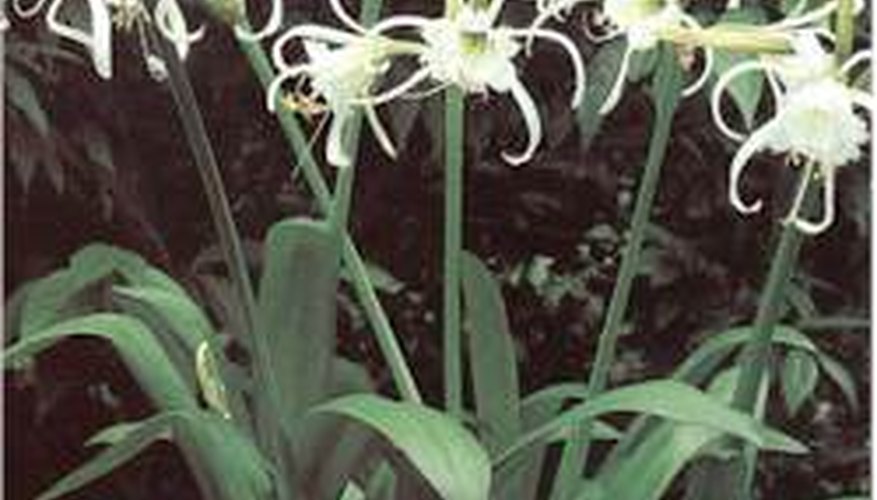 Peruvian daffodil (Hymenocallis narcissiflora) - shown at right
Height: 24-30 inches
Flowers: 4 inches across, star-shaped.
The plants produce 2-5 large, fragrant flowers per stem in mid- to late summer. White varieties are a striking additions to the night garden, and they are suitable for containers. The bulbs are only hardy in zones 8-10. In colder zones the bulbs should be dug up for winter storage.
Guernsey Lily (Nerine bowdenii)
Height: 18-24 inches
Flowers: clusters of 10, rose to pink in color
Clusters of flowers appear in early autumn. Guernsey lilies make excellent cut flowers and are a teriffic addition to rock gardens and container gardens. They are deer and rodent resistent. The neck tip of these bulbs should be at the soil surface when planted. They are hardy to zone 7.
Spring calla lily (Zantedeschia)
Height: 18-24 inches
Flowers: colorful 4-5 inch bracts
Flowers appear in late spring or early summer, with some varieties lasting into late summer. They are great for containers and make long-lasting cut flowers. They are only hardy to zone 9; gardeners in colder zones should dig the bulbs for winter storage.
Rain Lily (Zephyranthes)
Height: 8-12 inches
Flowers: upward facing, crocus-like
Rain lilys take their name from their habit of blooming several times a season, usually following a rain. These bulbs are great for naturalizing and look good in containers with larger plants. They are deer and rodent resistant, and hardy to zone 7.