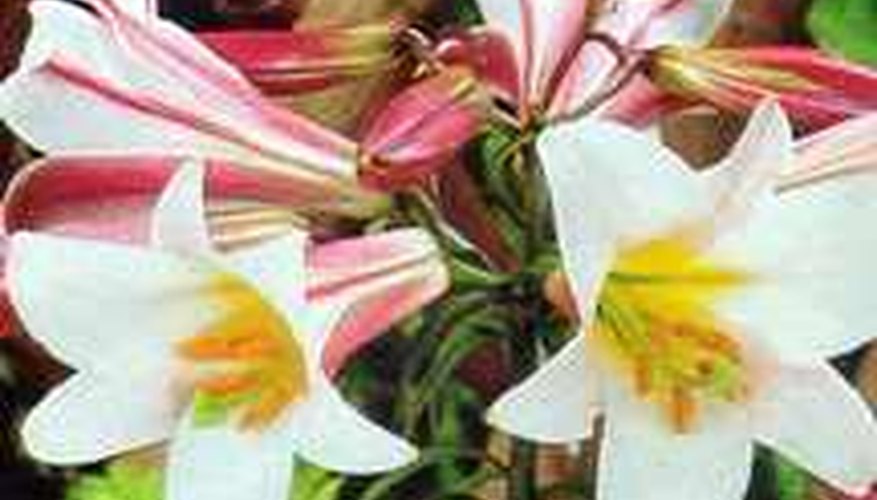 The Lily (Lillium) is a hearty bulb that can be planted in fall or spring. In the whole lily spectrum, there is something for everyone, from easy-to-grow, long-lived garden plants to the more difficult and rare species. Their summer blooms are the highlight of the garden, and they are long-lasting as cut flowers. Most lilies bloom between June and August, and the large, trumpet shaped flowers feature a variety of colors and designs. They do well in a bed or border with other perennials, or they can stand alone. Shorter varieties can be planted in containers (see Forcing Bulbs.)
Planting Guide
Although fall planting is more common, they can also be planted in the spring.
The bulbs never go dormant, so plant them as soon as possible.
Plant in a well drained, sunny location.
Dig a hole 6 inches deep.
Sprinkle a complete bulb fertilizer in the bottom of the hole. They will need to be fertilized again in the spring.
Untangle the roots and place the bulb in the hole with the roots spread out.
Fill the hole with soil and pack down to eliminate air pockets.
Plant bulbs at least 8" apart, or as specified for the variety.
Water well, and continue to keep the bulb watered until the ground freezes. This will ensure good root growth.
Mulch well in areas that receive frost.
Companions
Delphiniums echo the vertical lines of lilies. Add shorter perennials in front of lilies and delphiniums to round out the picture. Garden phlox stands 3 to 4 feet tall and comes in white, red, pink, lavender and purple. Try planting "bright eyes" phlox with "stargazer" lilies. Baby's breath is a nice cover for the bare lower portion of lilies. Some lilies will grow much higher than the baby's breath, while others will be seen through a mist of tiny white flowers.