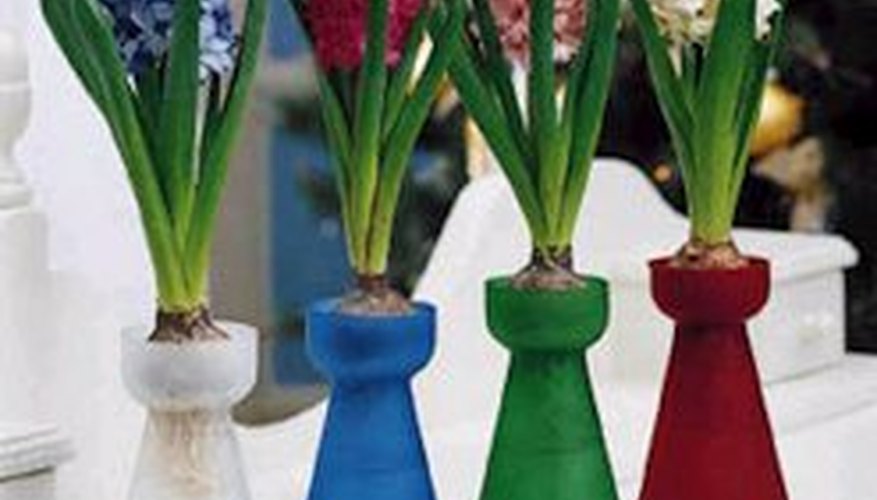 Hyacinths are noted for their long lasting blooms and outstanding fragrance. These qualities make them a top choice for forcing, as well as an attractive addition to the flower bed. Blooms will remain in top condition for two to three weeks.
These stiff, upright plants are better planted in clumps rather than in straight rows. They grow 8 to 12 inches tall, with the double varieties being slightly smaller. They come in a wide variety of colors, and the stems are nearly all blooms. Hyacinthus make great houseplants and are easy to force into bloom.
When choosing bulbs for your garden, remember that larger bulbs produce larger blooms. In the second year, the bulbs will split creating smaller bulbs and smaller blooms. You can replant with new bulbs every year to maintain top quality blooms, but I like to supplement the hyacinths with showy annuals in their off years.
After the bloom fades, you may trim the stems. You will want to leave the foliage until yellow to provide nutrients for next year's bulbs.
Varieties
Single Hyacinths
The full heads on these classic hyacinths look good in the garden or forced in pots. Blue Giant is one of the largest singles, and has sky blue flowers with dark blue veins.
Double Hyacinths
Fluffy whorls of colorful flowers are arranged on 10-12 inch stems. Hollyhock is an outstanding variety that features dark pink blooms.
Multiflora Hyacinths
Each bulb produces a number of flower stalks with loose arrangements of flowers. They are less formal than singles and doubles.
Planting Guide
Hyacinths will perform well in zones 4 to 8. Some varieties also thrive in zone 3. Choose an area where the soil is well drained. Hyacinth bulbs are susceptible to rot if planted in a wet area.



Work a good bulb fertilizer into the soil. Add a little lime if your soil is acid.



Plant bulbs 5 to 6 inches deep, 5 inches apart.