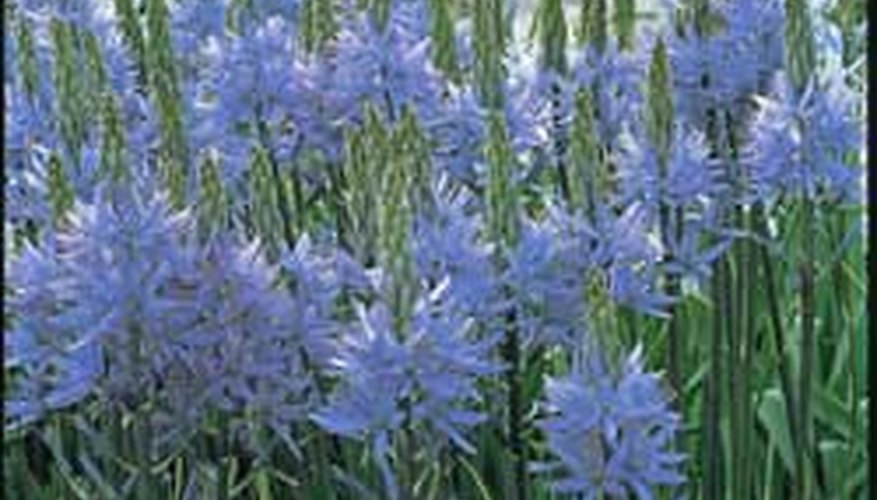 AKA: Wild Hyacinth

Botanical Name: Camassia

Planting Time: Fall

Height: up to 3 feet
Exposure: Sun or light shade
Soil: fertile, rich in organic matter, moist but well drained
Hardiness: 4 to 9 with some variation by species
Bloom Time: Late spring to summer
Uses: Wildflower areas, borders, cutting
Popular Varieties
C. Cusickii This species comes from Oregon and produces a very large bulb. Foliage is blue-green, 16 inches long and 1½ inches wide. Numerous pale blue florets are produced on strong stems reaching a height of 30-36 inches. Once the plant is established, the flower heads are large and contain many individual flowers that open over a long period of time. Zones 3 to 9.
C. leichtlinii One of the tallest growing, this species reaches more than 36 inches in height. Leaves are an inch wide an 24 inches long. Flowers vary from white to deep purplish-blue. White varieties are a great addition to an all white garden. This is one of the best garden species, and several great selections are sometimes found, including semi-double flower forms. Zones 4-10.
C. quamash This species is widespread with a habitat that reaches from British Columbia to California. It has great variation in flower color, from white to deep blue to purple. These hardy plants are easy to grow. The bulbs can be quite large and and plants are more compact than other species, reaching a height of 10 to 30 inches. The bulbs of this species was used for food by Native Americans, however most parts of the plant are poisonous, and isn't recommended that you eat any part of it. The cultivar 'Orion' is deep blue and 'San Juan' is even deeper blue. Zones 5-8.
C. scilloides This variety, also called Wild Hyacinth, reaches a height of 24 inches. It has grasslike leaves 1 inch in width. Flowers vary from deep blue to white and number from 8 to 10 per stem. C. scilloides is very easy to grow in average garden soil as long as moisture is present during the growing season. Grows best in zones 5-8.