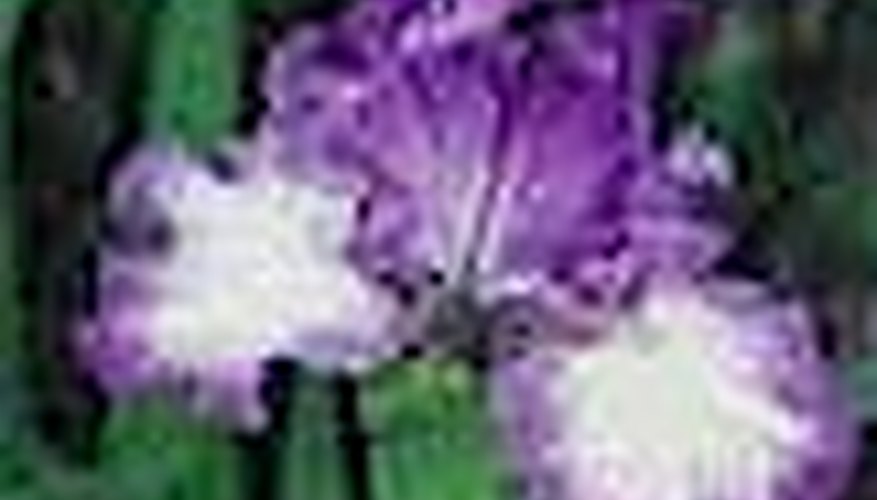 by Susan Gray
Few flowers are as user friendly to the weekend gardener as the bearded iris. Offering carefree blooms in nearly every color of the rainbow, bearded irises are easy to establish and require a minimum of maintenance. Petals that vary in texture from the most plush velvet, to the finest silk, often on one flower, provide variety to suit almost every taste.
Unlike most spring bulbs, bearded iris don't require a period of cold to produce blossoms, making them perfect for areas with mild winters. They are also extremely drought tolerant, good for areas with little or no summer rains. Bearded irises are not actually bulbs, but rhizomes, a kind of thick brown root. Hardy in zones 3-9, the rhizomes need plenty of sun to bloom well and regularly. They do best in well drained soil, but will tolerate less drainage in drier areas.
To plant a rhizome, dig a large hole, fill the center with a mound of well broken up soil and set it on top. If planting in the fall when dormant, cut back existing roots to about three inches. Iris planted in the spring should have their roots fanned out around the sides of the mound. The rhizome itself should sit at about ground level. Growers differ as to whether it is best to cover the rhizome completely with a light layer of soil or to leave the tops a bit exposed.
For the weekend gardener, soaker hoses make watering irises a breeze, providing deep watering slowly when they dry out. In Southern California I water once every week to ten days. Irises multiply out from the center, which over time, becomes dry and dead. Every three to four years, they need to be dug up, divided into new plants and replanted to provide the most flowers. The best time for planting in Southern California is in September (or even October, when fall weather is hot). In other parts of the country you may do better to plant right after they bloom in the spring, generally April or May.
Cut off dead blossoms and dead bloom stalks when the iris has stopped blossoming, but don't cut back the leaves until they begin to turn brown in the fall. The leaves are needed to produce next year's blooms. When you do cut, leave a fan shape about six inches long. Feed your irises a teaspoon of bone meal every fall and when you replant. You can feed again a month before they usually bloom if you like, but they are quite tolerant of just one feeding.
With so many colors to choose from, most people buy their first irises in the spring from growers or garden centers where they can see the plants in bloom. Larger growers often have colored pictures of most varieties in their catalogs. But buying from smaller local growers whose catalogs may lack pictures is not difficult, if you know a little terminology. Irises are described by their parts, each of which can be a different color.
The three petals that grow upward on the top of the iris are called Standards. The three that hang down are referred to as Falls. The smaller often fuzzy or hair like parts in between are the Beard. If an iris is all one color it is called a Self. When I first started growing irises I was enamored of the deep purple to velvet black Selfs. Bearded irises are among the few flowers to come in a true black. In fact, they come in every color except green.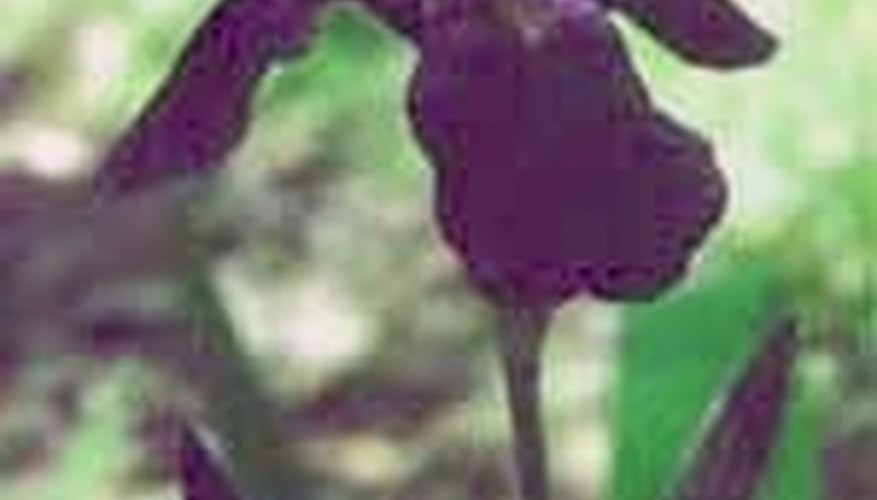 One of the first Irises I won a ribbon with in local competition was an old fashioned purple Bi-tone called Lothario Again. Bi-tones as their name suggests are two shades of one color, in this case, violet silk Standards and deep purple velvet Falls. When the Standards and Falls are different colors they are referred to as Blends.
The real mystery group is the Plicatas. The petals of Plicatas have light colored centers edged in a darker shade, but this allows room for quite a variety of combinations. The prolific Jesse's Song with mid- purple Standards touched with white in the center and Falls of white with an inch and a half border of dappled purple around ruffled edges is one of my standbys. Pot Luck is a Plicata whose petals have cream colored centers edged with a narrow stippling of yellow with a wider band of mulberry overlapping it. Often the edges of a Plicata look like some one painted on the color with a stiff dry brush, leaving distinct spots of varying sizes.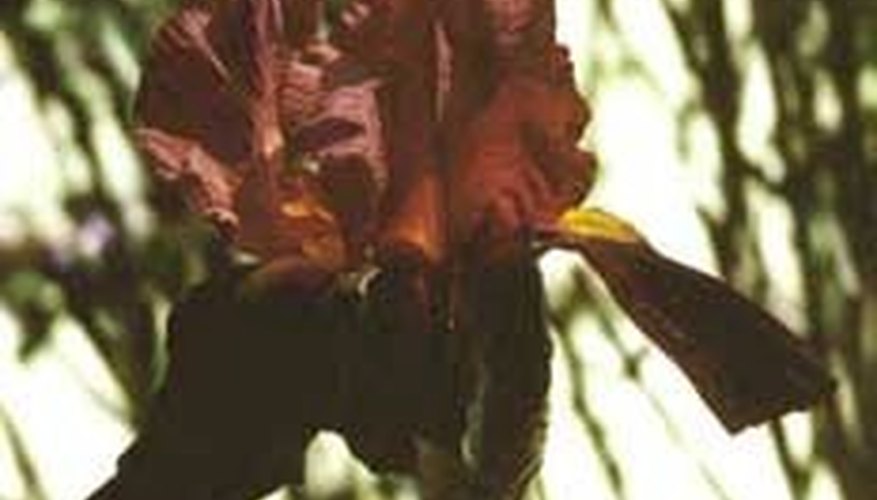 I moved on from purples, to reds (usually a sort of rust color instead of bright red) and browns and the strangely beautiful blacks. Here I found one of my best bloomers a true brown with silky Standards and slightly darker velvet Falls, called mysteriously, Witch of Endor. It is what is known as a Rebloomer, often producing a second round of blossoms in the fall. Another similarly named favorite is Witch's Wand with black Falls and a purplish black Standard. Some people collect mostly one color, others a rainbow of hues.
The oldest irises are often tall and simple. I rescued a bunch of irises from the garden of an older house being torn down a few blocks away from my home. Digging them up, a few steps ahead of the bulldozer, all I remembered was that they were a soft lavender I had often admired in driving by. When the irises blossomed the following spring, I had two varieties one lavender and one white, both Selfs, with simple old fashion flowers that reach four to five feet in height. Newer varieties may have ruffled or lacy (deeply ruffled) petals and tend to be in the two to three foot range.
Soon I had more irises than I had room or sunlight. Each time I dug up irises in the fall, I found myself looking for homes for orphaned rhizomes. Still I was seduced into trying out a few more by names like Conjuration, New Moon, Superstition or Strange Magic. Some names speak of other places like: Fresno Frolic, Mt. Cook A'Dawning, Miss Atlanta or Barbary Coast. There are irises named for music like Jazz Jubilee or Mountain Melody, or astronomy like Pulsar and Quasar, or even for drinks like Margarita Time and Tequila Sunrise. Whatever your interests, you can find irises whose names reflect them.
Easy to grow, irises ask little in the way of gardening time and offer a seemingly endless range of colors and combinations. The bearded iris has much to reward today's busy gardeners.