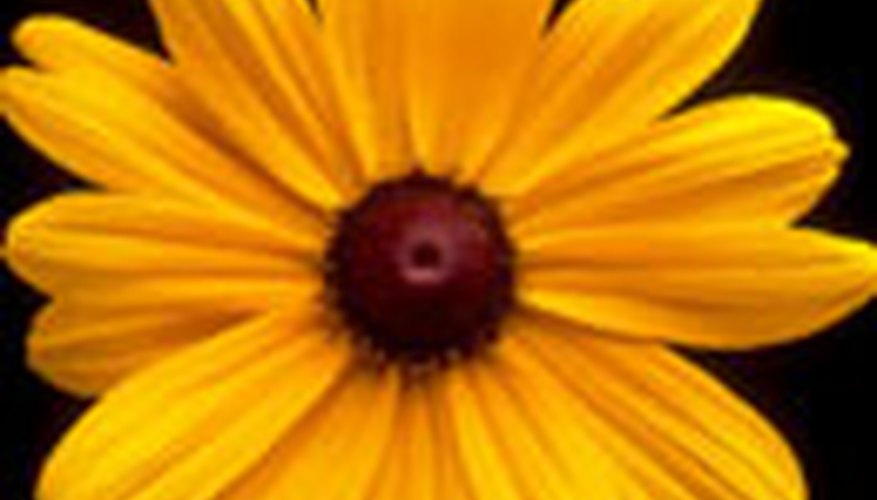 by Naomi Mathews (Lanao2(at)aol.com)
As a child, it wasn't uncommon for me to pick bouquets of many different beautiful wildflowers from spring through late fall. They seemed to bloom abundantly everywhere in those days -- in meadows, along dusty roads, on the banks of canals and irrigation ditches, and even in my father's cultivated fields.
I recall clutching colorful handfuls of pale blue cornflowers, dainty yellow buttercups, fragrant pink wild roses and yes -- golden black-eyed Susans. I can still see my mother's eyes sparkle as I handed her a fragrant treasure trove of wildflowers. She would carefully arrange my bouquet in a Mason jar, then fill it with fresh cool water from our deep well. My wildflower bouquet would grace our dining room table for several days, or until their little flowers began to droop and die.
10 Easy-Care Perennials This booklet will introduce you to 10 beautiful perennials that are undemanding, wonderfully versatile, and adaptable to a variety of growing conditions. They're not particularly fussy about soil conditions, and they can tolerate both drought and overwatering, as long as they have adequate drainage. These wonders of the perennial world grow quickly, require little maintenance, and reward you with a kaleidoscope of color and gorgeous foliage year after year.
How I loved those fields of wildflowers -- especially the black-eyed Susans with their huge black eye surrounded by delicate petals of gold. I also have fond memories of picking golden petals from them--one petal at a time--as I quietly said: "He loves me . . . he loves me not . . . he loves me . . . he loves me not. . . ." Then, I would close my eyes to pluck off the few remaining petals, all the while hoping that the last petal would reveal to me what every young girl's dream is: "He loves me . . . !"
What is it with women and flowers, do you suppose? Did their love for flowers perhaps begin "in the beginning" when Adam and Eve lived in and tended the beautiful Garden of Eden? Being a woman and loving flowers, I choose to believe that it did, and that this beautiful legacy has been passed on to generations of women everywhere.
History shows that many state flowers in America were first chosen by women. Ultimately, but not always without some controversy, those women's most favored flowers would then be designated as official state floral emblems by governing officials.
Although many states designated official state flowers to represent them at the World's Fair in 1893, Maryland was not among them. It wasn't until 1896 that a small group of women decided Maryland needed an officially designated state flower.
While at a meeting in 1896 at Maryland Agricultural College, they decided upon the Black-eyed Susan. However, their choice was not without dispute. Some groups wanted the goldenrod adopted. Many farmers declared both black-eyed Susans and goldenrods as noxious weeds. Other pros and cons were also voiced and discussed by Maryland residents.
In spite of these controversies, the Black-eyed Susan (Rudbeckia hirta) became Maryland's official state flower on April 18, 1918. Today, it is among the most cherished state flowers. Its colorful yellow-gold single petals are often two to four inches across, encircling their large black centers. It's interesting that these same colors are in Maryland's state flag and also color her beautiful state song bird, the Baltimore Oriole.
The state of Maryland initiated a successful wildflower program in 1986. Maryland's state highway department planted over 300 acres of wildflowers to help reduce air pollution, provide new wildlife habitats, and enhance local highways. A mix of both native and naturalized wildflower seeds was planted, and Black-eyed Susans were the predominant species.
Because Black-eyed Susans are a biennial, are self-seeding, and thrive in ordinary soil and full sun, they were an excellent choice for Maryland's highway enhancement program. Butterflies are also attracted to Black- eyed Susans, as they provide them with rich nectar from early spring until late fall.
Gardening with "Gloriosa Daisy" Cultivars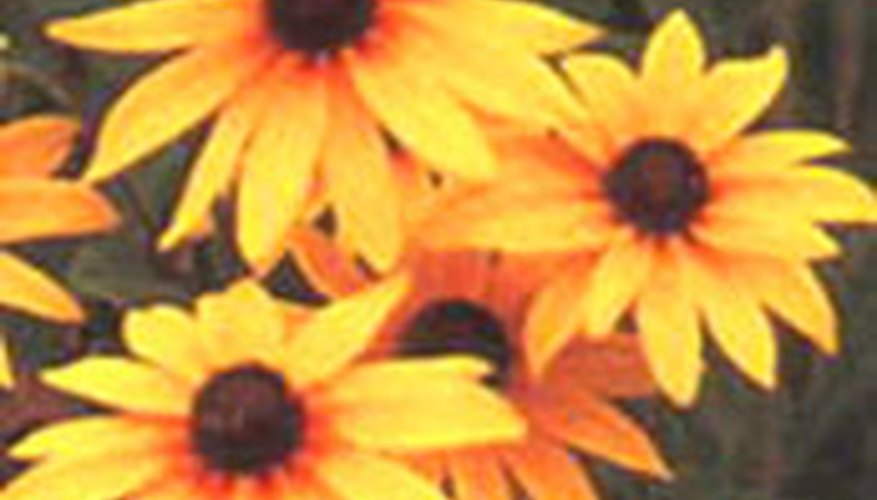 Today's gardeners have many outstanding Gloriosa Daisy cultivars (Rudbeckia hirta cultivars) to choose from in addition to the Black-eyed Susan wildflowers. Gloriosa Daisies are superb cultivars for planting in drifts to create informal borders or to grow along fences. They are also excellent for planting in cut-flower gardens, as their brilliant blooms are very long-lasting.
Gloriosa Daisies do best in USDA Zones 4-8. Although they can't survive in cold winter zones even though they are perennials, they are very widely grown as annuals. Their brilliant blossoms last throughout summer and late fall, and will attract many colorful butterflies to your garden.
As with Black-eyed Susans, Gloriosa Daisies are very easy to grow and care for. They require only average, well-drained soil and need at least six hours of direct sunlight daily. Direct sunlight helps them to grow upright and develop stiff stems that they need to support their profuse blossoms. Depending on the variety, blossoms of Gloriosa Daisies can range up to 6 inches wide, with some species growing as tall as 3 feet.
When planting Gloriosa Daisies from seeds, start them in early spring after your garden soil has warmed. Plant the seeds about 1/2 inch deep, cover them lightly with a thin layer of soil, then water with a very fine mist. When the new seedings appear, thin them so there is at least six inches between each plant. Thin them again to about 12 inches apart when they have grown larger and have begun to mature.
Seedlings can also be purchased at garden centers in the spring. Make sure you choose only healthy seedlings having strong, firm leaves. If the leaves appear soft or mushy, they may have been overwatered and are not likely to survive after being transplanted. Again, select a garden site that will provide them with plenty of direct sunlight.
Since certain species of Gloriosa Daisies produce large, top-heavy flowers, you may need to stake them. Following a heavy rain, it's also a good idea to gently shake off excess water that has formed on their blossoms. This helps prevent them from drooping or even completely bending over and breaking their stalks. An entire border of "droopy daisies" can prove to be a real disaster for a gardener. In addition, deadheading spent blossoms regularly will encourage further blooming.
Colors and Varieties for Brilliant Garden Displays
Do you need tall plants, medium-sized ones, or perhaps a dwarf variety? Are you a gardener who likes to see stunning orange or rich golden blossoms waving in the breeze? Or, would you prefer daisies having pale soothing yellow blooms?
Only you can decide which variety will please you the most and fit into your gardening theme the best. For now, here are several special species for you to contemplate. All are easy to grow and care for and will bloom profusely for you with proper care.
A very unique species of the Gloriosa Daisy is appropriately called 'Irish Eyes.' As you may have guessed, this species sports pale green centers with striking deep yellow flower petals surrounding the green centers. As Irish Eyes' become mature their green centers gradually turn brownish in color. Irish Eyes' will present a beautiful display when planted in wide borders, perhaps mixed with brilliant white Shasta Daisies. An ornamental grass such as Variegated Maiden Grass (Miscanthus sinensis 'Variegatus') also makes a sensational partner for 'Irish Eyes' when planted in drifts.
'Indian Summer' -- aptly named -- bears flowers of deep golden yellow with burnished brown centers. The dark warm hues of this species will really glow like a true Indian Summer in your garden throughout summer and fall.
'Toto' has rather floppy flower petals that are a very golden yellow with a hint of red near their deep brown to black centers. This species grows 3 to 4 feet tall, and blooms abundantly.
For a shorter, more dwarf variety, choose Rudbeckia 'Becky' that grows only 10 to 18 inches tall. Its blossoms are a brilliant yellow with brown centers.
Another favorite among gardeners everywhere is Rudbeckia laciniata 'Goldquelle'. This truly "glorious gloriosa" will lend a soothing effect to your garden with pale yellow blossoms that surround beige-brown centers. Goldquelle' is also a shorter species, growing only 20 to 30 inches tall.
And, lest you forget -- be sure to blend some striking Black-eyed Susans with your Gloriosa cultivars for an outstanding summer display. Perhaps they will serve as a reminder to you that our great country's national anthem was written in the historic state of Maryland.
The residents of Maryland have a small group of women who lived almost a hundred years ago to thank for color coordinating their state by choosing "Miss Black-eyed Susan" as Maryland's floral queen. She has reigned royally with dignity, loyalty, and beauty ever since.