by Naomi Mathews (Lanao2(at)aol.com)
More than a hundred years ago on December 12, 1890, the California State Floral Society cast their votes to designate an official flower for California. The three flowers to be voted upon included the California poppy (Eschscholzia californica), the Mariposa lily (Calochortus), and the Matilija poppy (Romneya coulteri).
Only three persons voted for the Mariposa Lily, whereas no votes were cast for the Matilija Poppy (often called the giant poppy). Consequently, the California Poppy won the esteemed title of "Official California State Flower" by an overwhelming landslide. Research shows that the California Poppy had been first depicted more than 70 years earlier, and that it had a horticultural history of approximately 64 years. It seems very fitting to me that this state's official flower is golden in color. For who doesn't associate "gold" with California? And who doesn't recall the many tales that have been told--some true, others perhaps fable--about the great California Gold Rush! Then there is California's renown nickname of "The Golden State" -- making one think of sunshine and golden sandy beaches!
Over the course of my life, my husband and our then young family once lived in the sunny state of California for several years. I can still recall seeing the many fields and low hillsides covered with these golden, yellow, and bronze colored flowers. Their dainty cup-shaped blossoms nodded a cheerful "Welcome to California!" greeting to us as we drove through the lovely countryside on our way to San Diego. Little did I know that those gaily colored flowers were first found along the Pacific coast way back in the year 1815 by a Russian expedition team. Aptly, Dr. Johann Friedrich Eschscholtz, one of the members of this expedition team, was later honored to have the California poppy (Eschscholzia californica) named after him.
Since the California poppy is California's official state flower, it is protected by state law prohibiting persons from picking or destroying it. As with many other native flowers across America, some are subject to becoming endangered species because of the destruction of their habitats through land development and construction projects. So always remember, when you see this lovely flower and you're tempted to pick it or dig it up for your own garden, you risk being fined by the state of California. It's best to purchase seeds or seedlings from a licensed nursery for planting in your own flower beds!
Gardening Highlights for the California Poppy
California poppies (Eschscholzia californica - Papaveraceae Family) are free branching poppies with finely divided leaves of bluish-green. Their blossoms are single, with satin-soft petals of about 2-3 inches that are shaped like tiny cups and are long lasting. They always close at night, opening again in the morning with a blaze of colors.
Their showy little blossoms vary from pale yellow to deep orange or bronze, and even rose colors. Depending on their variety, they can have double or semi-double blossoms, with petals of darker shades at their edges.
The native California poppy isn't the greatest choice for your garden beds unless you are willing to deadhead its spent flowers regularly. Otherwise, they will go to seed and turn brown--not a pretty sight when in your flower beds. If you like the native poppy, however, it is an excellent choice for growing along a long driveway, a hillside location, or in a country garden setting.
Seeds should be broadcast in the fall or early spring in well-drained sandy soil that has been well spaded or raked. Also, gardeners should choose a sunny location, as they prefer full sun. Since California poppies don't transplant very well, it's best to plant them where you want them to be long-term. After planting, the soil should be kept moist until the seeds have germinated. This species does well in all zones, and although it is considered a perennial, it is grown as an annual in colder zones.
Other Popular Garden Varieties of the Poppy
All poppies are members of the poppy family, Papaveraceae, and especially to the genus Papaver. There are a great many species of poppies available for gardeners who love their bright silky flowers and striking foliage. They can be either annuals, biennials, or perennials, depending on their species.
Flanders poppies (Papaver Rhoeas), also known as the "Corn Poppy" actually originated from the wild poppies of Flanders fields. It has been revered as the poppy of Flanders fields ever since World War I. The Bicolored Shirley poppies are a strain of this species. Both are annuals, and when sown very early in the spring, will bloom throughout the months of June and July.
Iceland poppy (Papaver nudicaule) is a rather short-lived perennial that will bloom from midsummer through fall if planted in early spring. If their spent flowers are deadheaded, they will usually bloom again the following spring.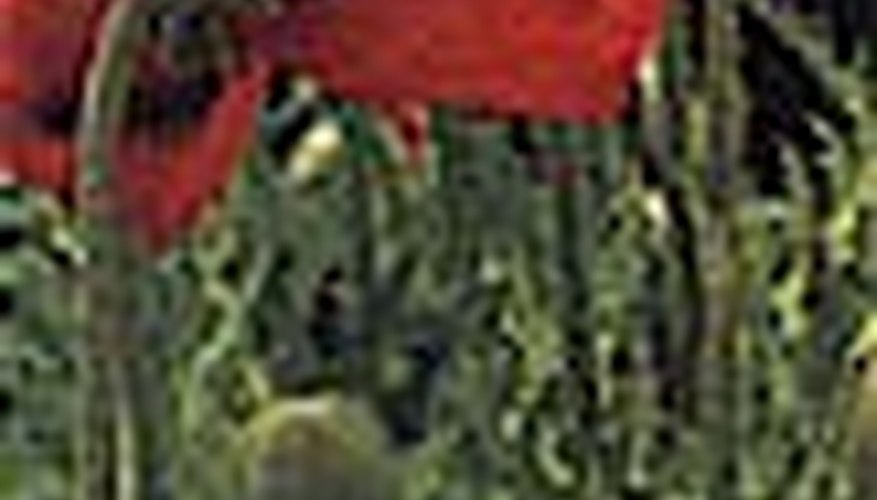 The Oriental poppy (Papaver orientale) needs to grow for two years before it blooms, and then only blooms for a few weeks. However, its dazzling flowers are really worth waiting for. Their silky blossoms can be up to six inches wide and are shaped like wine goblets. Red, white, salmon, orange, and white are among some of this poppy's brilliant colors. The
fiery red "Allegro Viva" poppy is absolutely stunning, and makes an outstanding border along any pathway in your yard or garden.
Growing Tips for Planting Poppies
Poppies have long been a favorite of gardeners for planting in rock gardens and for brightening up splashy borders. They are also fantastic flowers for planting in containers, such as a large wooden half barrel or a galvanized tub. Plant several poppies as your tall center flowers, then add colorful snapdragons or blue salvia, candytuft, pansies, and sweet alyssum or Dusty Miller to fill out your container. These are sure to provide you with a summer bouquet until late fall.
Most poppies are very easy to grow, especially annuals such as the California or the Shirley. Soil preparation is minimal, and usually requires just a bit of raking of your seed bed. Keep your soil moist after planting and the seeds will germinate readily in about a week. Poppies demand good drainage for proper growth.
Since almost all poppies are self-sowing if allowed to go to seed, you could be lucky enough to only have to plant them once. It is possible to transplant any small volunteers by digging them up when they're quite small. Care should be taken to not injure their roots when moving them, and they should be spaced at least 12 inches apart when transplanting.
Many states in America have had songs written about them, and California is no exception. A sweet little song titled "Golden Poppies Good Night" was written by Mary A. Lombard. It was published in The Golden Poppy by E.E. Smith, 1902, Murdock Press, San Francisco, and is on page 192.
"Golden Poppies Good Night"
by Mary A. Lombard
Pretty poppies golden, In thy yellow cup
Sunbeams bright, lend their light, Honey bees doth sup.
In thy bed so dainty, Soothe to slumbers deep,
Poppies, golden poppies, Flowers fair and sweet.
Pretty poppies golden bright, good night, good night.
Nod your little golden heads, good night, good night.
Nod your golden heads, Nod your golden heads,
good night, good night, and say good night!
So, my friends and readers, if you're ever in sunny California and you perchance see a field of Eschscholzia californica poppies, remember to breathe a word of thanks to Dr. Johann Friedrich Eschscholtz, the brave Russian explorer who discovered this living "golden nugget."