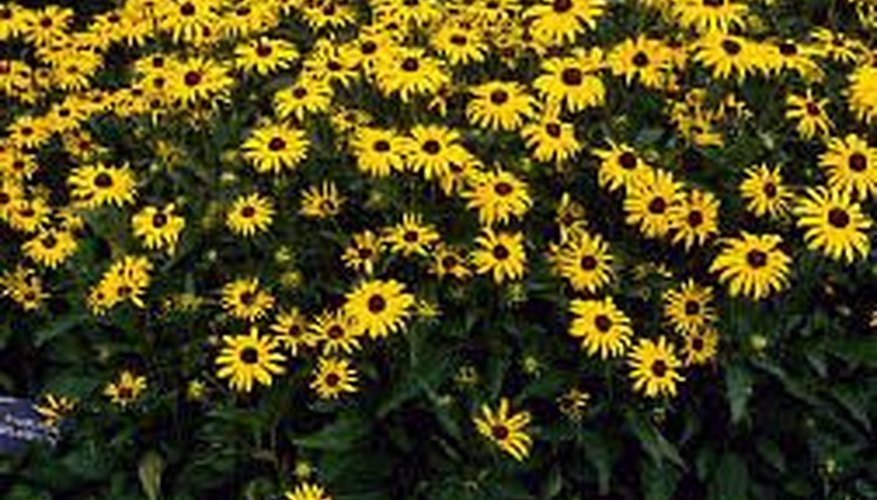 Black-Eyed Susans (Rudbeckias) are noted for their large, daisy-type blooms with prominent dark centers. Flowers come in shades of yellow, orange and mahogany and bloom in from summer until the first frost in autumn. It's easy to see the family resemblance with their tall cousins, the sunflower.
Plants grow from 2 to 3 feet tall and are suitable for massed planting, wildflower meadows or beds and borders. Many species of butterfly are attracted to Rudbeckia, and the effect is particularly striking in the wildflower meadow. They are also delightful, long lasting cut flowers. To prolong vase life, immerse cut stem ends in boiling water for about 30 seconds before adding to your floral arrangement. Hold the flower head to the side to keep it out of the steam.
Plants will thrive in most climates except the tropics. They need sun all day to prevent stunting and encourage flowering. In very windy areas they will need wind protection unless they are closely planted. Black-Eyed Susans will grow in most any type of soil as long as it is well-drained.
Seeds can be sown outdoors in spring, summer or fall. They can also be started indoors in early spring and moved outdoors when the danger of frost has passed, but few people do this since they are so easy to start right in the garden. Rudbeckias are one of the easiest plants you can start from seeds. Even if you haven't had great success growing flowers from seeds in the past, you can save yourself a good bit of time and money, and be sure of success with Rudbeckias. You might get a better germination rate if you keep your seeds in the refrigerator for about 3 weeks before planting, but it's not necessary.

There are many types of Black-eyed susans, and you'll find annual, biennial and perennial types readily available. Regardless of which type you choose, they are all eager reeseeders and because of this useful habit will come back year after year. Plants with biennial habits tend to be showy one year and weak the next.
Growing Black-Eyed Susans in Beds and Borders
Once seedlings are an inch or two tall, thin them to about 12 inches apart. Pinch out the growing tips when they are about a foot tall for bushier, sturdier plants. You'll want to keep your plants moist until well established. Mature plants are quite drought tolerant. Monthly applications of complete plant food results in larger plants and flowers.
Growing Black-Eyed Susans as Wildflowers
Black-Eyed Susans are often found growing wild along roadsides and in meadows across North America. A meadow of Rudbeckias is easy to start - simply broadcast the seeds over prepared soil. If possible, roll or press the seeds into the soil.
Type: annual / biennial / perennialPropagation: seedsLight: full sunFlower Color: orange, yellow, mahogonyBloom Time: summer, autumnHeight: 2 - 3 feetWidth: 12-18 inchesSoil Requirements: perfers soil with some organic matterZones: all except tropicalUses: Beds, Borders, Wildflowers, Cut Flowers