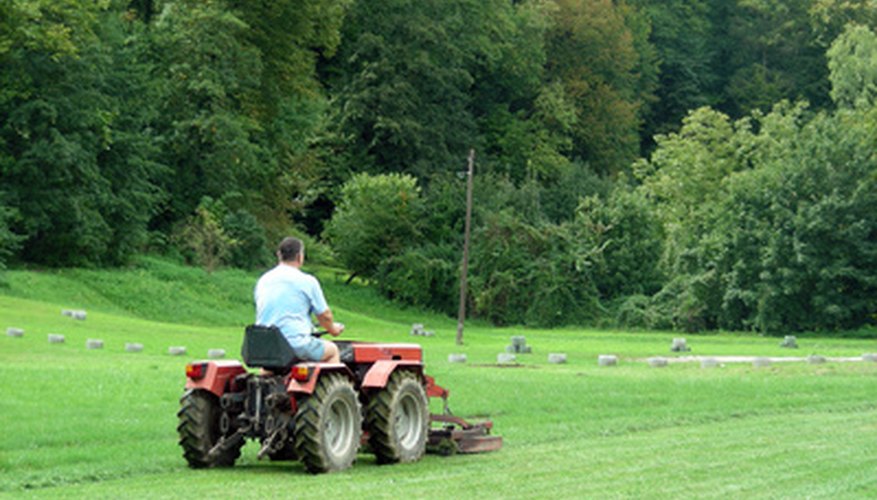 Henry Ford was born in 1863 in a rural family. He was raised on a farm and took a personal interest in constructing an economical lawn tractor, also called a mower, that everyone could afford. His prototype gas-powered lawn tractor was successfully developed, constructed and introduced in 1907.
Early Development
From 1907 to 1917, Ford developed over 50 lawn-tractor prototypes. In 1917, he finally developed and introduced the Fordson F for mass production. The Ford Motor Company shareholders did not approve of the development of the tractor, so Henry Ford created a new company called Ford and Son Inc, which was later shortened to Fordson. Production of the Fordson started in Minneapolis, Minnesota.
Ongoing Manufacturing
From 1917 to 1928, Ford manufactured 1,227,694 Fordson lawn tractors, according to the Fordson Tractor Pages website. The company eventually branched out from the United States to England. In 1938, Ford shifted focus away from lawn tractors. The company then began to ramp up its production of the Model A car, which replaced the Model T. The Fordson name would continue to be used on tractors in England until 1961.
Ferguson and the Jacobsen Company
In 1938, Ford partnered up with Harry Ferguson -- and produced the Ford 9N tractor. The Ford 9N had a three-point hitch system, which allowed for safe attachment onto the tractor, using three-points of contact. Later, the Jacobsen company would manufacture Ford lawn tractors until 1988. Jacobsen would also manufacture Homelite garden equipment, Minneapolis-Moline tractors, the early White-branded model lawn tractors and Oliver lawn equipment.
The Company's Demise
In 1988, the Ford company purchased the New-Holland Company to produce lawn tractors and equipment. At the time of purchase, the Ford company ceased their partnership with Jacobsen. Despite the new partnership, the Ford company wanted to get out of the tractor business. In 1991, the Ford company sold the Ford and New-Holland tractor company to FIAT. FIAT made a decision to cease using the Ford name on all tractors they manufactured after 2000.
Advances
Ford tractors hold the distinction of being the first tractors to be produced on a massive scale. Their mass production allowed the price to remain relatively low when compared to other tractors of the day. The machines' low cost made them affordable for not only the farmer, but also the rural citizen.
Following the manufacture of the Fordson lawn tractor, the company released the Ford-Ferguson 9N. A smaller tractor, it was also mass produced and carried a low price tag. The later model, the 8N, featured the first manual transmission -- while the newer Fordson New Major models, which were manufactured from 1952 to 1958, were available with motors that ran off a choice of gasoline-kerosene, gasoline or diesel. Through the years, Ford would roll out many new lawn-tractor versions. Many still run today, according to SSB Tractor.
Resources