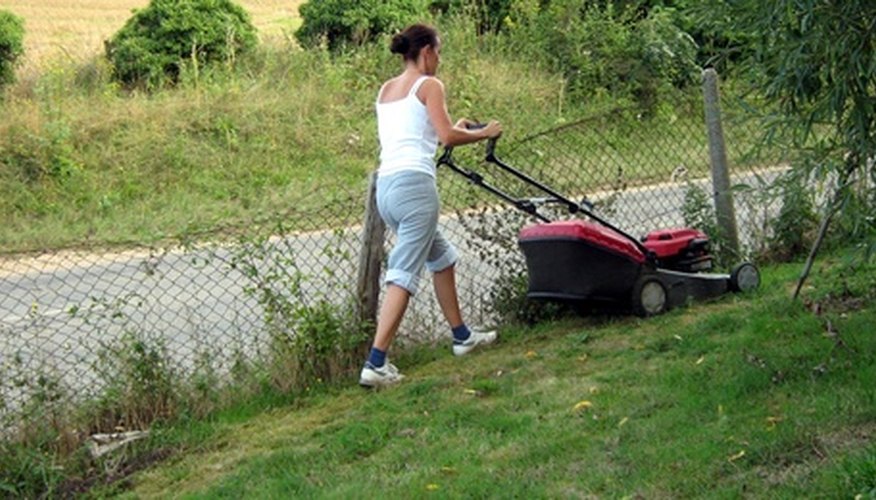 With so many options on the market, it can be difficult to choose a new lawn mower. Top lawn mowers purchased for domestic use on the market include John Deere and Toro. While you consider the differences and the features and benefits of each brand, keep in mind your primary concerns, such as how big your lawn is, how fit you are and how often you cut your grass.
Engines
Both lines of walk-behind and riding mowers utilize the powerful Briggs & Stratton engines, so you won't see a huge difference in the power performance. The mid-range John Deere JS36 engine is a 190-cc, four-cycle engine made to John Deere specifications. The engine meets Environmental Protection Agency air emission standards as of 2012 and sports a recoil-rope starting system. A similar Toro model, the 20314, offers a 159-cc engine that also provides a recoil-rope start. The Toro engine comes with a GTS, or guarantee to start feature. Both engines are designed to start without priming.
Features
Electric starts and self-propelling features are available from both companies as of 2012. John Deere lawn mowers feature a Fresh Start fuel tank cap that drips a fuel stabilizer into the tank to keep the gas fresh and ensure quick starts after you take a break. Toro promotes its air-flow system and engine block design as the key to running cooler and quieter than other mowers. Bagging and mulching features are available on both machines.
Benefits
The standard walk-behind lawn mower decks at John Deere are 22 inches as of 2012, while similar Toro models range from 20- to 22-inch spreads. The Toro Time Master series includes a wide 30-inch deck that can reduce your mowing time -- up to 40 percent, according to the company website. Both companies warranty their products and have been around for a long time, ensuring they should be available to service your lawn mower if you need it. John Deere invented the first steel plow in 1837 and formed the company later that year. Toro, founded in 1914, started out manufacturing tractor engines.
Riding Mowers
John Deere and Toro make extensive lines of riding lawn mowers and tractors as well. As of 2012, you'll find a much larger selection of sizes and price ranges at John Deere, however. Options for Deere's zero-turn residential riding mowers range from the 42-inch deck Z225 EZtrack model to the 62-inch deck Z465 and the Z655 54-inch high-capacity deck with twin engines and deep deck design. Toro riding mowers start with the 32-inch mowing deck Time Cutter SS3200 and range to a 60-inch Titan model with oversize rear wheels and a commercial-grade transmission.
Prices
Prices go up as you add features to both lines of lawn mowers. Independent dealers for Toro brand mowers offer various financing options while John Deere Financial provides a number of options through dealers and distributors. Both companies make commercial and residential products that vary in price. In 2012, you could buy the 20-inch Toro push mower for as little as $279 through the website, while the least expensive John Deere walk-behind was $359 at the same time. Residential riding mowers at John Deere were running as high as $5,899 on the company website. To buy a Toro, it's necessary to find a distributor. Mowers Direct sold the Toro Titan 54-inch deck for $4,999.99 in 2012.