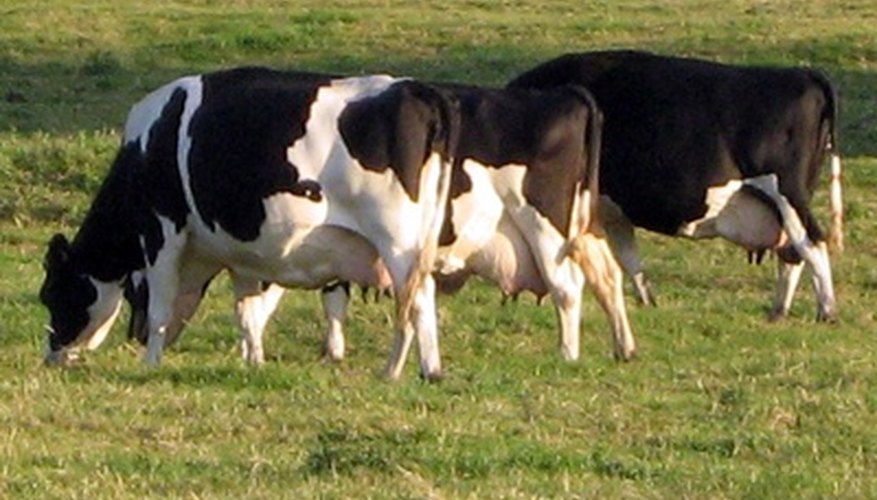 Glucosinolates occur predominately in Brassica plants such as cabbage, broccoli and canola. The plants produce at least 120 different glucosinolates, which are natural thioglucosides that provide the plant with nutritional value and defense. The process of breaking down, regulating and metabolizing the glucosinolates gives the plants bacteriocidal, fungicidal, nematocidal and allelopathic properties.
Consumption
A plant's enzymes will react with the plant's glucosinolates if the foliage or stems are crushed. When a cow or horse chews the plant's leaves, the cells of the plant will produce a bitter taste in the animal's mouth. Grazing animals usually find the flavor of glucosinolate-metabolizing plants unpleasant, so will avoid grazing the foliage. However, if the foliage of the plants is overgrazed, the animal will suffer from poisoning. Nitriles can form when the glucosinolate in the plant is consumed by the animal; the nitrile compound can damage the liver and kidneys of any animal that ingests it. The slow consumption of glucosinolates depresses the animal's thyroid gland. Excessive consumption may cause drooling, muscle tremors, coma and death, according to the National Animal Disease Information Service.
Metabolism
Glucosinolates occur in the plant's cells from methionine, alanine, leucine, isoleucine or valine. Aromatic glucosinolates are derived from tryptophan, phenylalanine or tyrosine. The conversion can take place when the leaves of the plant are crushed, or the glucosinolate can metabolize in the gut of the animal that consumes the plant. When the metabolism occurs in the gut, it is aided by certain bacteria such as bacterial myrosinases, found in the human colon.
Conversion
Plants have glucosinolate in certain cells and myrosinases in others. The substances do not mix until the plant is disturbed by grazing, insect invasion or foliage disruption. Once the cells are crushed, the glucosinolate and the myrosinases mix to form isothiocynates thiocyanates, nitriles or oxazolidine-2-thiones. The mixing of the compounds often produces an unpleasant odor. Horseradish, for example, has its telltale aroma because of the mixing of the compounds.
Effects
The metabolism of glucosinolates creates isothiocyanates, oxyazolidine-2-thyiones or thyiocyanates. The process occurs after consumption and once the plant is inside the colon. Plants will also convert glucosinolates during cooking.
Glucosinolate converted into isohiocyanates can have a severe effect on the thyroid and interfere with necessary thyroid hormones. Isothiocyanates are also often irritating to the mucus membranes. Oxazolidine-2-thiones and thiocyanates will affect the thyroid. Cornell University states that oxazolidine-2-thiones and thiocyanates cause goiters, inhibits thyroid function by preventing the body's incorporation of iodine and suppresses the thyroid's thyroxine secretion.