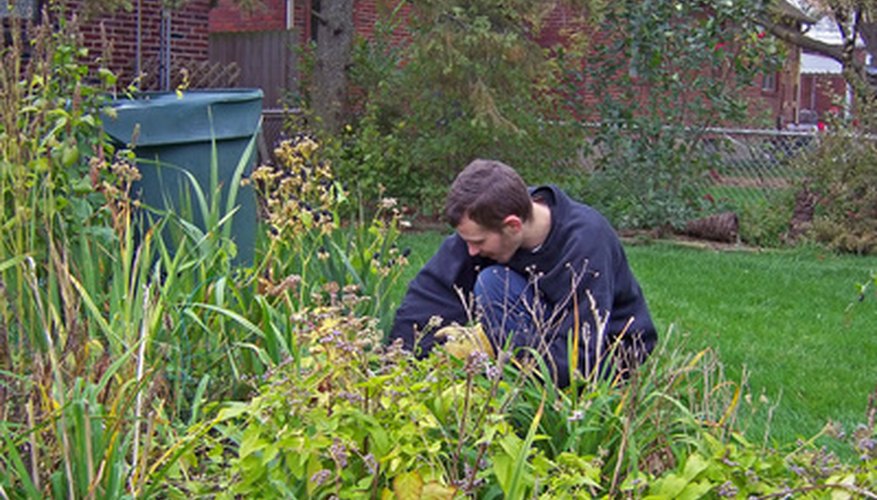 Invasive weeds -- plants, vines and trees -- can quickly take over your garden, robbing your other plants and flowers of sunlight and nutrients. Green Shoots, a company just over a year old, allows you to accurately apply a foam herbicide to specific, individual plants. The system, primarily for woody plants, can only be used with weed killers that will foam for application.
Green Shoots vs. Other Weed Killers
The Green Shoots applicator works with glyphosate-based products that contain surfactants. These types of herbicides are known as systemic herbicides because they travel through the plant to the root. You apply the herbicide foam to live plants immediately after making a cut in a woody weed or vine. If you wait longer than five minutes, the plant begins to heal and the herbicide won't be as effective. Non-systemic herbicides kill weeds by coating the surface of the leaves and suffocating them.
Benefits and Drawbacks
Glyphosate-based herbicides, like those used with Green Shoots, kill nearly any plant you apply them to. If you have more than one type of invasive plant to deal with, non-selective herbicides could be helpful, but you also have to be much more careful when applying them to avoid killing other plants in your garden. The Green Shoots system involves applying the herbicide foam to a cut in each plant individually, so if you're dealing with a heavy weed infestation, Green Shoots may be time- and labor-intensive.
Selecting a Weed Killer
If you're planning to eliminate weeds on sidewalks, your driveway or other large areas where you want to get rid of all vegetation, you may want a spray-on weed killer that's quicker and easier to apply. If you're trying to target a particular type of weed, such as broadleaf weeds in your grass, you'll probably want a selective weed killer geared toward the particular species you want to eliminate.
Tips For Use
Weed killers used with Green Shoots work by moving down the plant and into the root. Apply Green Shoots foam to green weeds anytime during their active growth cycle. For woody weeds, wait until late summer or early fall with the plant's sap begins to fall. Contamination by dirt or soil will neutralize the herbicide, so keep the applicator clean and dirt-free.
Warnings
When using any herbicide, including Green Shoots' recommended products, always wear protective gloves, clothing and eye wear.
Mixing inappropriate herbicides in the Green Shoots dispenser could cause malfunction.
Store all products out of reach of children and pets.