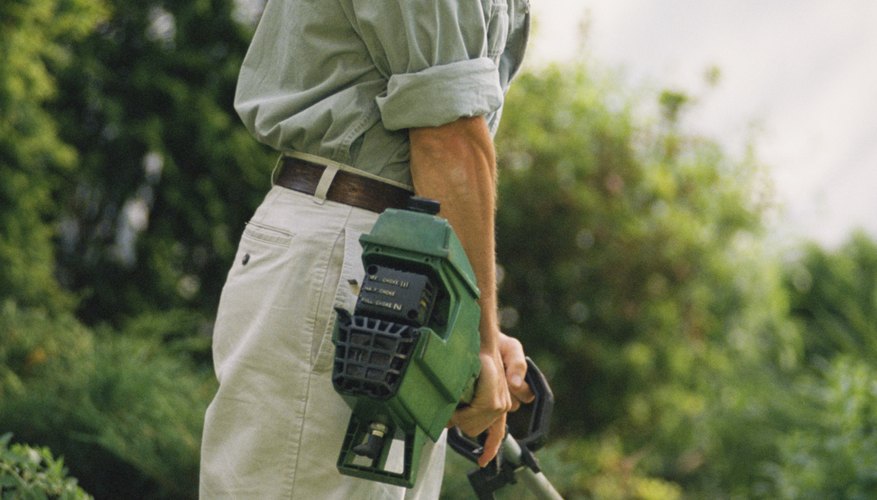 Cutting weeds in a yard, especially around the edges, requires a more precise tool than a lawnmower. Weed trimmers, such as those from Cub Cadet, come in a variety of sizes and powers. Cub Cadet touts the energy efficiency of some of their weed trimmer models. Choosing the right model for your lawn will help you get the job done more efficiently.
Cutting Swath
The area a weed trimmer cuts through is called the swath. Selecting a weed trimmer with a wider swath gets the job done more quickly. The largest cutting swath available in the Cub Cadet line of trimmers is 18 inches, while the smallest is 12 inches.
Handle
The handle shape on a string trimmer provides the steadying grip. There are two handle shapes on Cub Cadet string trimmers: d-shaped and j-shaped. The j-shaped handle, open on one end, is found in Cub Cadet models BC2090 and ST4179. J-shaped handles need to be installed for a left- or right-handed user by attaching the handle to the trimmer with the bend of the j-shape on the right or left side of the unit. The remaining models of Cub Cadet trimmers have a closed, d-shaped handle for a better grip with either hand.
Energy Efficiency
Some models of Cub Cadet weed trimmers are more energy efficient than others. Models with four-cycle engines operate more efficiently than two-cycle engines. The enhanced efficiency can be heard in these trimmers' quieter engines and lower emissions. Cub Cadet trimmer models with the four-cycle engine include the BC5090, ST4175, ST426C and the ST59L.
Power Source
All of the nine Cub Cadet weed trimmers use a gasoline engine, with the exception of one. The String Trimmer ST59L model uses a 20-volt lithium-ion battery. This has a smaller, 12-inch cutting swath to compensate for the reduced power of the trimmer. For heavy brush, choose the most powerful motor you can find on the trimmer.
Prices
The manufacturer's suggested retail price for the Cub Cadet line of trimmers range from $129 to $189 as of November 2011. The lowest costing model in the line is the $129 ST2020 with a 31 cc, two-cycle engine and a 17-inch cutting area. The most expensive model, the $289 ST426S, has a four-cycle engine and an 18-inch cutting swath.