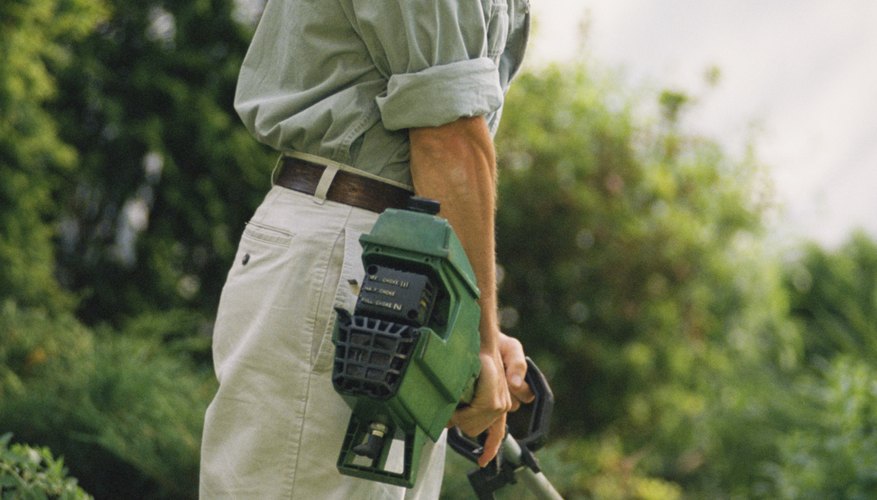 String trimmers make grooming a landscape quick and easy. The yard machines come in gas-, electric- and battery-powered versions, and they range from inexpensive ones used occasionally for small jobs to professional models used for several hours each day. Another option with string trimmers is whether the new string feeds automatically when it wears out or with a bump feed.
Trimmer Design
The string trimmer has three basic parts, the shaft, the motor and the string. Shafts can either be straight or curved depending upon the model. Straight shafts allow you to reach under areas better, while curved shafts allow a straighter posture when using them. Two-stroke gas engines are usually found on consumer models while professional models almost always use a more powerful four-stroke engine. There are advantages to both auto-feeding and bump-feeding string models.
Advantages
The greatest advantage to an auto-feed system is that there is no delay in the task. You continue to operate without concern as to whether the string is sufficiently long enough to whip the weeds and grass. With a bump-feed system you must keep an eye on the line to see if it is still long enough to cut the grass. If not, you bump, or bounce, the feeding tube on the sidewalk with a moderate force, which then opens the gate to let more string out.
System Jam
Both auto-feed and bump-feed are prone to getting jammed with dirt and debris, and not continuing to work well. The machine has to be stopped and the feed tubes cleaned out before you can continue. The auto-feed system is more complicated because it has sensors that determine the amount of string to feed, and if the sensors get confused or fail the whole feed system breaks down.
Preventative Maintenance
Some manufacturers have taken steps to make their bump-feed more reliable, according to Popular Mechanics. By dividing the mechanism into several parts, they ensure that the constant bumping doesn't break the system. With good preventative maintenance, and thoroughly cleaning underneath the unit after each use, both the auto- and bump-feed systems should work for years.