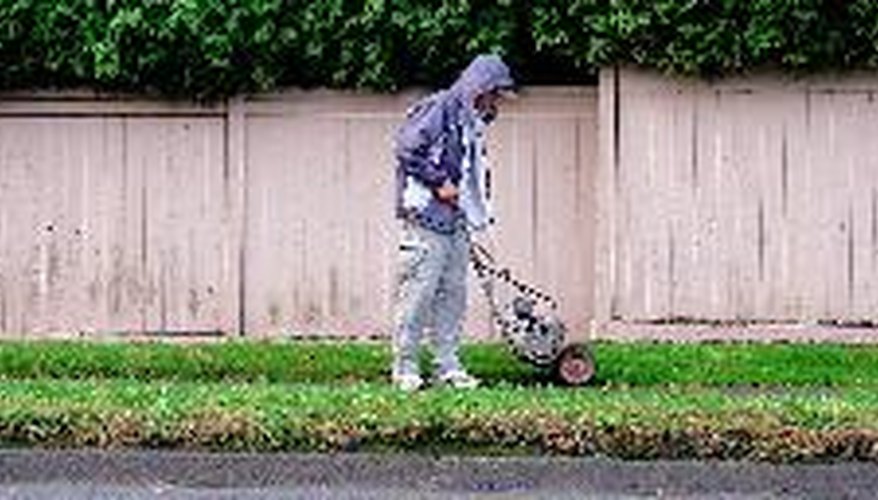 horticulture banner image by Horticulture from Fotolia.com
Lawn edgers are landscaping tools used to cut and remove excess grass for a defined border or edge. These useful garden tools are ideal for lawn maintenance, creating a well-manicured border around sidewalks, driveways and gardens. The first edgers were manually operated, but more modern and powerful varieties are powered by gas or electric motors.
Original design
Before the lawn edger was mechanized, the original edging tool most closely resembled a shovel. A typical design incorporated a half-circle-shaped blade attached to a handle. The blade was used to cut through grass and sod; the flat-edge top could also be pushed into the ground and used like a shovel for clearing larger areas.
Gasoline edger
In the 1940s, the first gasoline lawn edger was invented by Louis Faas Sr., who was working for the company King o' Lawn. His design used a 1.5-horsepower Briggs & Stratton engine and involved a system with pulleys and a cutting blade. Other brands used this basic design as a model to develop improved edgers with adjustable blades.
Modern gas edgers
The modern gas-powered lawn edgers is designed around a rotating blade, connected to the engine by two pulleys and a belt and attached to a handle. In contrast to electric lawn edgers, most gas-powered edgers have wheels that offer the advantage of greater mobility and stability. Gas-powered edgers have either a 2- or 4-cycle engine; the 2-cycle models are powerful but require the addition of oil to the gasoline. These lawn edgers are good for both commercial and residential use.
Electric edgers
The electric edger was designed as a light-weight, quieter solution for homeowners with smaller yards. Although they are not as powerful as gas-powered edgers, electric edgers are cheaper and require less maintenance and can extend as far as the power cord will allow.
Cordless edgers
Even less powerful than the electric edger is the cordless electric edger. Theses cordless edgers run on a battery that lasts an average of 30 minutes. They are convenient for small yards with thin, manageable grass.
References