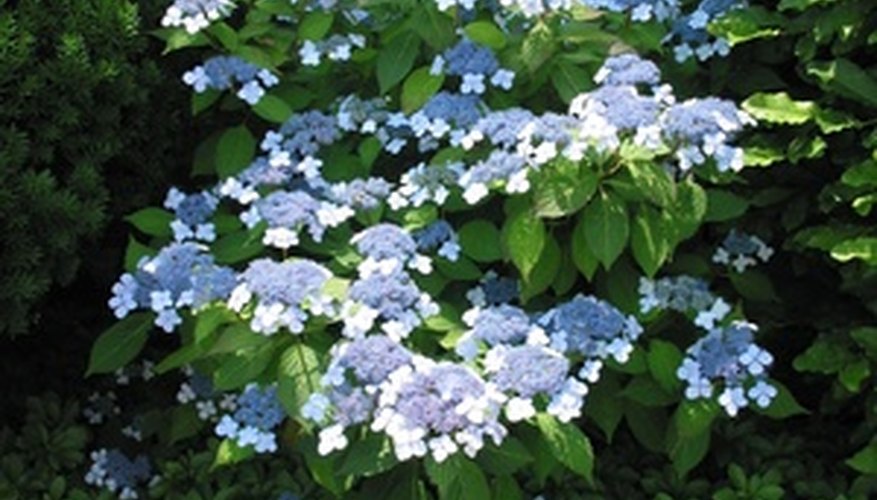 A benefit of having a mature hydrangea bush is being able to create your own cut flower arrangements. The hydrangea is hardy in USDA zones 6 through 10 and grows 3 to 6 feet tall. Hydrangea blooms grow in a large ball with clusters of flowers in white, pink, lavender and various shades of blue. Soil pH influences the color of the hydrangea blossoms, but any color of hydrangea will do in a fresh-cut bouquet.
Cutting Hydrangeas
Boil 1 to 2 gallons of water in a pot the night before you plan to cut the hydrangea blooms. Allow the water to cool overnight. You can use unboiled water, but it will have less oxygen. Pour the water into a bucket just before cutting the hydrangeas.
Select your blooms from a hydrangea bush. Unlike other types of cut flowers that require a young bloom, you want the hydrangea bloom to be at least two weeks old before cutting. Choose full blooms on which all of the individual florets have opened.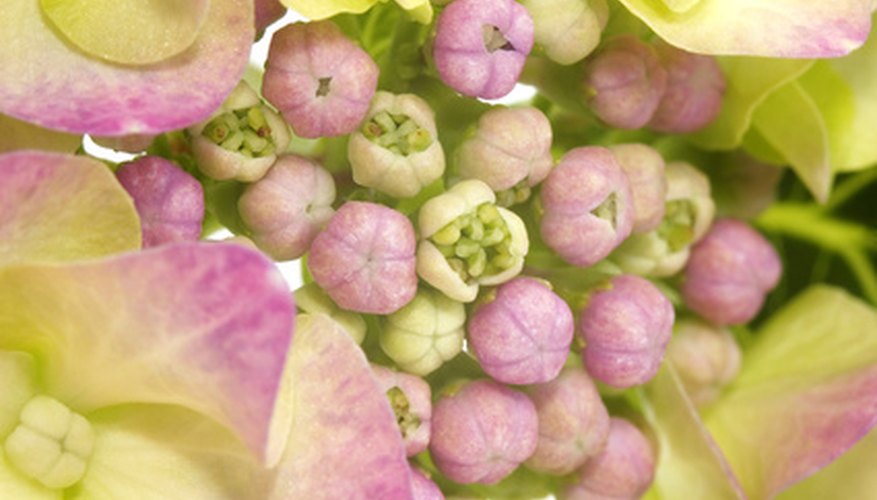 Cut the stem at an angle using a sharp pair of pruners or scissors. The stem should be 12 inches long or shorter. The longer the stem, the longer it takes for the water to reach the bloom. It is also beneficial to the hydrangea bush if you leave as much stem on the remaining plant as possible so it can produce new blooms.
Hit the ends of the stems with a hammer. This opens the stems to absorb more water. Plunge the flowers in the bucket of water up to their blooms. Spray the blooms with water. Allow to soak overnight.
Cut another inch from the stems the next day and place back in the water. Fill a vase with fresh water. Arrange the flowers in the vase until it pleases your eye. There is no need for your bouquet to look like it came from a flower store. A natural look is good.