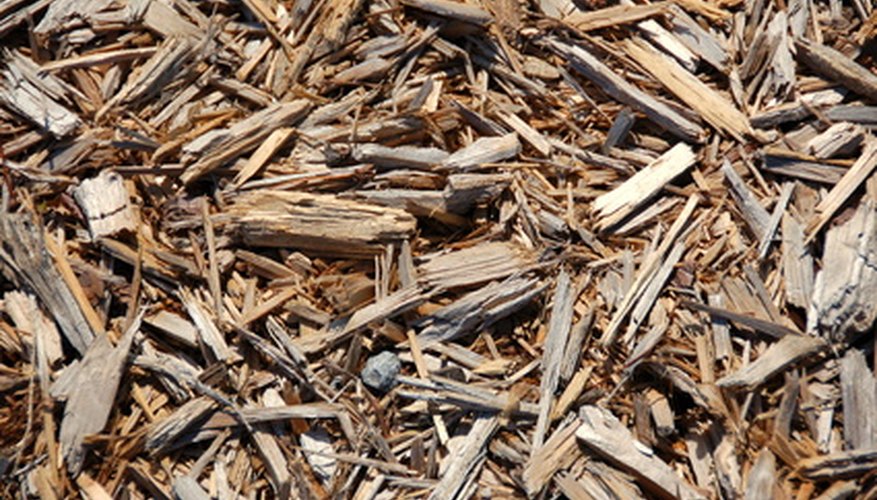 Bark mulch is an ideal way to decorate the garden and surrounding landscape. It helps to spruce up areas of the home like pathways, driveways and flowerbeds and improves the condition of the soil. Bark mulch is easy to spread and perfect around small plants, as well as shrubs, trees and perennial beds. When spreading the bark around the garden, be sure to keep a 2-inch ring away from the base of the plant.
Flowerbed
Spread a layer of bark around perennial beds and flowers to prevent water loss and reduce the growth of weeds below. Bark mulch also assists in keeping the soil around the plants cooler in the hot, summer months, thus ensuring the flowers have an even temperature and do not undergo shock. Dark bark mulch or light pine bark mulch helps to contrast with the bright blooms and create a fresh, finished look to the garden. It provides interesting texture around the perennials to beautify the landscape. Perennials located on sloped areas of the landscape like banks and hillsides benefit from bark because it helps prevent erosion and keeps the soil from splashing onto other plants.
Path
Garden paths are an ideal way to connect areas of the landscape--such as a backyard patio to a front-yard garden. Bark garden paths are easy to maintain and provide a visually appealing addition to the garden. They create a polished look and prevent weeds from shooting up and taking over the landscape.
To create a naturally flowing bark path, follow the natural curves of the landscape. Curving paths that disappear around the landscape to draw your attention to what lies around the corner and helps to reveal special areas of the garden like water features and sculptures. Allow for at least a 2-foot-wide path to ensure an adequate walking path and to allow gardening equipment to maneuver through the space. To refresh the path and tidy up the space, layer a new layer of bark over the existing path.
Edging
Edging areas around the garden, such as borders and along lawns, helps to create a finished look. Bark defines the space where one area of the garden begins and the other ends. Edging a garden border with shredded bark also helps to create a natural display to the landscape and protects the plants and flowers from lawn equipment like lawn mowers and weed eaters. Edging driveways and stone walkways with bark mulch provides uniform color to the landscape and accents the space.