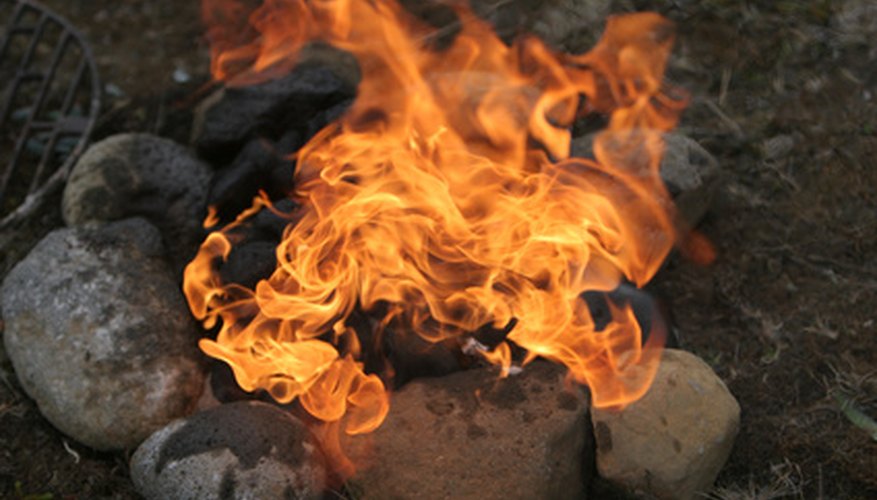 The relaxing times you can have around a backyard fire pit can be enhanced with well-planned landscaping. By focusing on the landscaping around your fire pit, you can give your fire pit area a more complete and colorful look that welcomes guests while keeping the risk of stray fires low. To landscape around fire pits you'll want to create a barrier around your fire pit and then surround it with lush plantings.
Dig up the sod layer all the way around your fire pit 4 feet out on all sides of the pit. Remove the sod and clear away dirt as needed to make the dug area 3 inches deep.
Spread landscaping fabric out to cover the bottom of your dug area, overlapping pieces by 3 to 4 inches as needed.
Push U-shaped landscaping staples through the fabric and into the ground every 4 feet along the inside edge closest to the fire pit and outside edge farthest away from the fire pit.
Pour an inch of sand over the landscaping fabric and smooth it out as level as possible. Add 2 inches of gravel over the sand or place pavers or flagstone in a decorative layout over the sand.
Pour a layer of sand over the area if you used pavers or flagstone to cover them. Sweep the sand into the gaps between the pavers to secure them. Spray down the sand with a gentle mist of water to settle the sand.
Plant perennials such as daylilies, hostas or dwarf juniper around the outside of the prepared area to create a background to your fire pit. Use planters set on the outer edges of the prepared area to grow potted annuals or perennials such as herbs, pansies or phlox.
Set benches or patio chairs onto your prepared area at least 2 feet from the fire pit. Try to leave room for movement between seats or angle them facing one another.