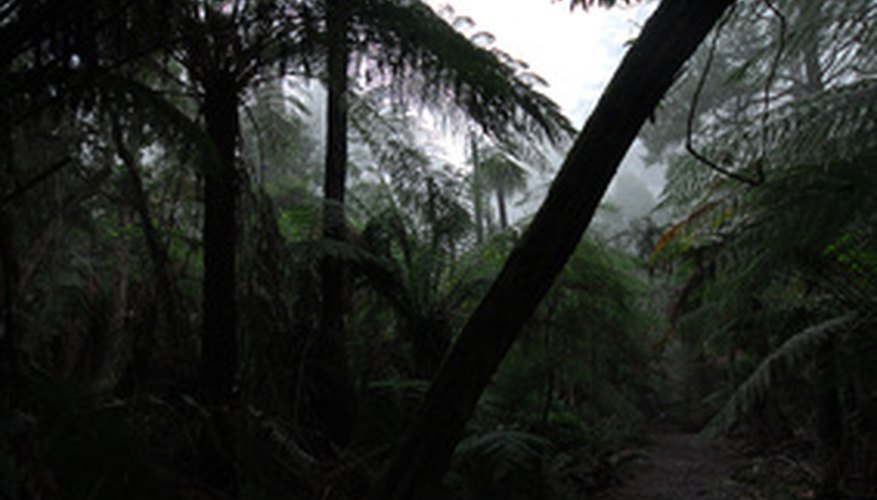 Tree ferns are native to the tropics of Hawaii and Australia and grow in rainforest areas. These plants can grow outdoors in subtropical areas like California or Florida and can survive as container ferns in temperate climates, living outdoors in warm months and indoors in winter. Transplant tree ferns when they have grown too large for their current location or to provide better growing conditions. Work on an overcast day in the spring or fall to avoid stressing out the tree fern from heat and sun.
Container-Grown Tree Ferns
Select a new pot with drainage holes that's one size larger than the one currently holding your plant. Fill the pot halfway full with a rich potting soil.
Grasp your tree fern at its trunk and pull it out of its current container. If the fern won't come free from the container, prick the soil with a fork to loosen it, then try again. It should come free.
Unwind tangled roots and break apart the soil clods in the rootball before transplanting the tree fern. Once you've unwound all roots, trim back the ends of broken or damaged roots. Then place the tree fern in the new container so it sits at the same depth as it did in the old container.
Top off the container with potting soil to within 1 inch of the top. Gently firm the soil around the base of the tree fern.
Water the newly transplanted tree fern until liquid flows from the drainage holes at the bottom of the container and the soil compresses around the base of the plant.
Ground Tree Ferns
Select a new location for your tree fern that offers more space, shelter from wind or more sunlight, based upon your reason for transplanting the tree fern. Then dig a hole twice the size of the tree fern's rootball. Use the Garden Line's estimate of 9 to 12 inches of rootball per inch of plant trunk diameter to estimate the size of the hole.
Dig the tree fern out of its current location. Begin digging at twice the distance of the rootball then work in toward the rootball. Dig down once you see the outline of the roots, and keep digging until you've gathered the roots below the tree fern.
Tug the tree fern from the ground when you've freed all roots. If one or two roots hold the tree fern in place, cut them with clippers. Lift the tree fern from the soil.
Carry the tree fern to its new location. Place it in the hole at the same depth as it was planted previously.
Fill in the hole with soil to complete transplanting. Then firm the soil around the tree fern and water until the ground becomes saturated.