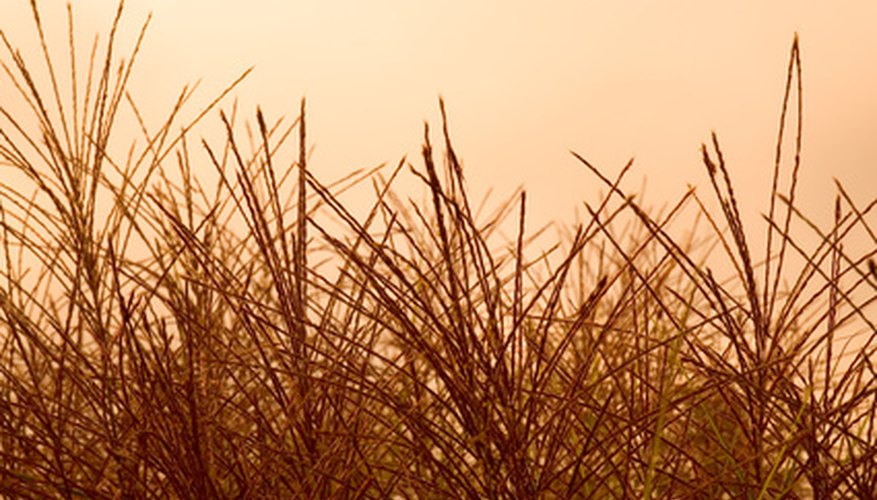 Ornamental grasses are low-maintenance plants that have many uses. They create interest in winter when dry; add color, texture and height to a garden; and they can help with erosion control. Ornamental grasses can tolerate many different soil conditions and water conditions. Ruby grasses, which are native to South Africa, are warm season grasses. They are only hardy to USDA Hardiness Zone 9. In colder zones they are annuals.
Pink Crystals Ruby Grass
Pink Crystals ruby grass (Melinis nerviglume or Rhynchelytrum nerviglume) produces pink blooms. These blooms turn white at the end of summer. The colorful flowers make this perennial grass popular for drying and using in arrangements. This grass has blue green foliage that is very thin and turns red in the fall. Pink Crystals grows to 1 to 2 feet tall. It likes well-drained soils and is drought tolerant and deer resistant.
Molasses Grass
Molasses grass (Melinis minutiflora) grows to 3 feet tall and is believed to repel insects and snakes. This perennial grass has a strong molasses odor that comes from the pale pink to purple flowers that bloom in November. When dried, the odor disappears. The leaves of this ornamental grass are reddish.
Natal Grass
Natal grass (Melinis repens, Rhynchelytrum repens or Tricholaena rosea) is a perennial grass that grows in 12-inch-high clumps. The flowers are pink and the foliage is blue-green. The flowers bloom from June to July. The seed heads that appear are rosy colored. This grass prefers dry conditions. In Florida, this grass is considered an invasive species.