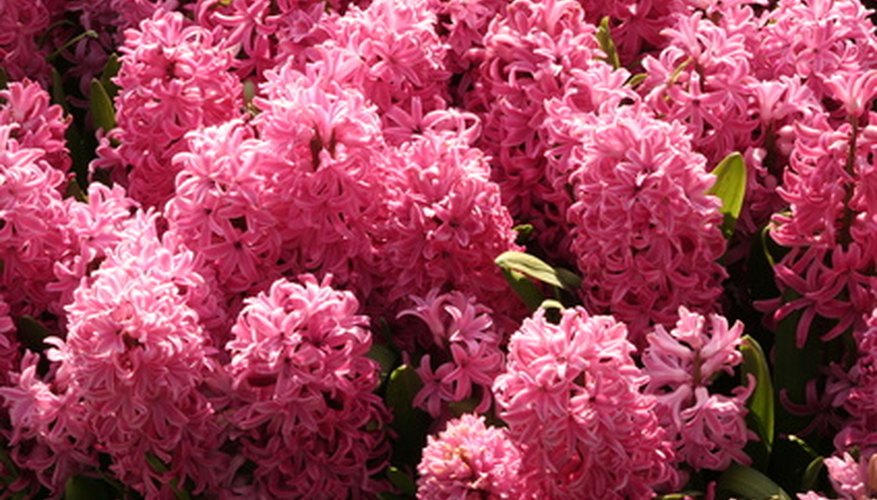 Many gardeners view the blooming of Hyacinthus orientalis, commonly known as hyacinth, as a bright and fragrant symbol of impending warm spring days. These early-blooming spring bulbs make their appearance at the same time as daffodils, early tulips and crocus. Native to West Asia, Turkey, Serbia and Lebanon, hyacinths were first cultivated in the 1560s in Austria. Their star-shaped blooms are available in magenta, deep purple, pinks, blues, yellow and white. According to the Flower Council of Holland, hyacinth symbolizes peace and power.
Plant hyacinth bulbs in the fall, six to eight weeks before the first hard frost, when soil temperature is below 60 degrees F.
Select a sunny, well-draining location and till the soil to the depth of 12 to 15 inches, mixing a layer of 2 to 3 inches of organic matter like peat moss or decayed leaves into the soil.
Dig a hole 6 to 8 inches deep for each bulb; place the hyacinth bulb into the hole pointy end up; cover with soil.
Water hyacinth bulbs thoroughly and continue to water during dry spells throughout the fall.
Cut back the hyacinth flower in the spring when the blooms are spent; leaving the stalks and leaves to nourish the bulb.