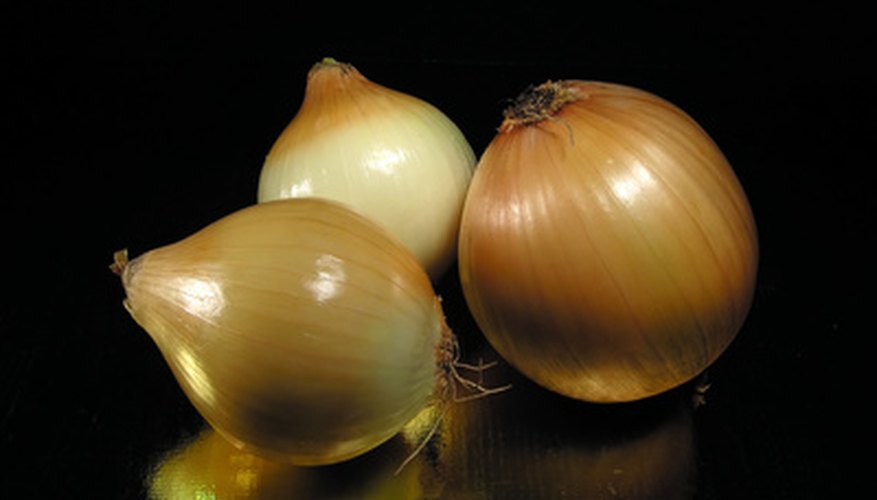 Onions flavor everything from fresh salads to baked casseroles. They're used worldwide in virtually every type of cuisine. They're easy to grow and the gardener can enjoy them from just a few weeks after planting until several months after harvest. Onions for the garden are commercially available in two styles: sets and plants.
Onion Sets
Onion sets look like tiny, stored onions with a dry papery skin. Sets are created by planting seed very densely. The crowded conditions force the plants to mature very quickly. When you buy onion sets, they are one year old. Sets are very cold tolerant and can be planted a few weeks before the average last frost. According to the University of Minnesota, smaller onion sets will produce larger onion bulbs.
Onion Plants
Onion plants, or "transplants," look like tiny green onions, complete with green stems. Onion plants that you find in the nursery this year were started from seed 10 to 12 weeks earlier. This is the main distinction between sets and plants. Sets are second year growth and plants are current year growth. Sets will produce seed heads, transplants will not. Transplants will produce larger bulbs than sets, but take longer to develop and are not as cold tolerant. In general, sets produce better green onions, and transplants produce better bulb onions. Bulb onions from transplants will not only grow larger, they will have better long term storage.
Growing Conditions
Both sets and plants need a loose, friable soil and good drainage. Onions will not tolerate soggy conditions. Onions don't have extreme nutrient requirements, but the shallow root system makes it important that fertile soil be available near the surface. Rich compost and sharp sand tilled into the planting bed will provide the drainage, soil structure and nutrient needs. Plant onion sets one inch deep. Plant transplants very shallow, with the roots just barely in the soil, a quarter- to a half-inch deep. For both, space according to planned use. For green onions, plant nearly touching; for bulbs, plant four inches apart. Or, you can space tightly and harvest alternate onions to increase space as the season progresses.
Starting Transplants
Commercial producers stick to just a few varieties. If you would like to grow specialty onions, Italian cippolinis and torpedoes for example, seed is available from many mail order sources. Sow seed a quarter-inch deep and a half inch apart 10 to 12 weeks before your average last frost date. Grow under lights, but limit the light to no more than 12 hours per day. Keep the tops trimmed to three inches until time to set them out.
Strategy
Gardeners who want to maximize the harvest period and have the greatest yield plant both sets and transplants—sets for fresh green onion use through the spring and transplants for mature onions. If you like to cook ethnic dishes, but find it difficult and expensive to buy specialty produce, you can grow those specialty onions for pennies by starting them yourself indoors.