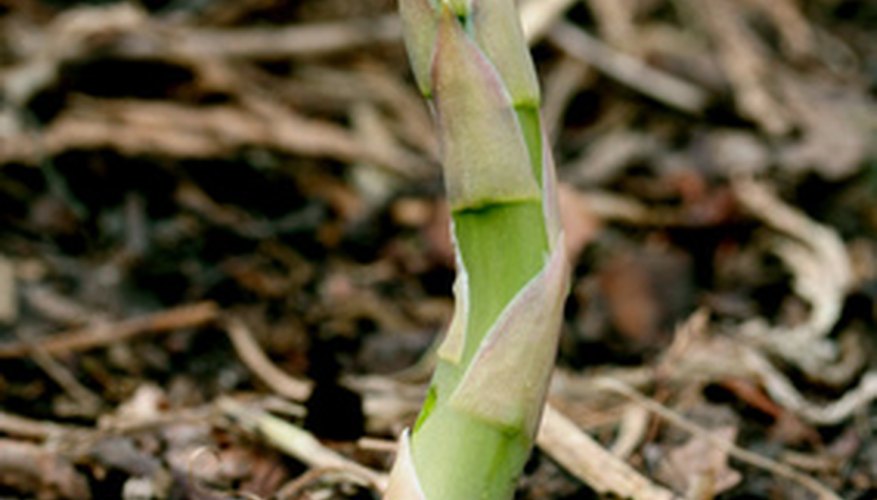 Planting asparagus takes a bit more work than most vegetables. The effort is worthwhile though, since asparagus is a perennial that can produce crops for up to 25 years once established in a good bed. Asparagus is popular among experienced vegetable gardeners in northwest Oregon's Willamette Valley. Stretching 120 miles along the Interstate 5 corridor from Eugene in the south to just north of Portland, the fertile soils and mild climate of the Willamette Valley are perfect for most vegetables. However, asparagus is not like most vegetables and extra preparation is needed to get your bed off to good start.
Choose a well-drained location that gets direct sun at least eight hours per day. Preparing the bed should take place in the fall so that soil amendments can work in over the winter. You will be able to plant a dozen crowns in a bed 3 feet wide by 12 feet long. Remove all weeds, plants and debris from the bed area.
Turn the soil to a depth of 10 inches and add 4 inches of aged compost or manure over the bed. Spread 1 pound of bone meal over the bed and turn the soil again to mix everything in. The 1 pound of bone meal assumes a bed of 3 by 12 feet. Otherwise the correct dosage is 4 ounces per square yard. The soils of the Willamette Valley are quite acidic. The purpose of the bone meal is to raise the pH of the soil above 6.0, which is the minimum level for asparagus.
Visit your local Willamette Valley nursery in early spring to purchase some year-old asparagus crowns.
Dig a 1-foot-wide trench along the center of the bed to a depth of 6 inches. Add an inch or two of compost to the bottom of the trench and blend in. Form a small ridge along the center and place the crowns 10 to 12 inches apart. The roots of the crown should be spread on either side of the ridge. Cover with 3 inches of soil. Backfill the trench in stages throughout the summer as the plants grow.
Irrigate the bed with an inch of water per week. Watering may be adjusted in spring and fall to account for rainfall. Summers in the Willamette Valley are quite dry, especially in July and August, so be sure to provide enough water during these months. Weed the bed by hand frequently to keep it clear of competition. Using a hoe is not recommended as you can easily damage the roots. Apply compost or a balanced organic fertilizer in spring and fall. Wait until the end of the second growing season to harvest the first crop.