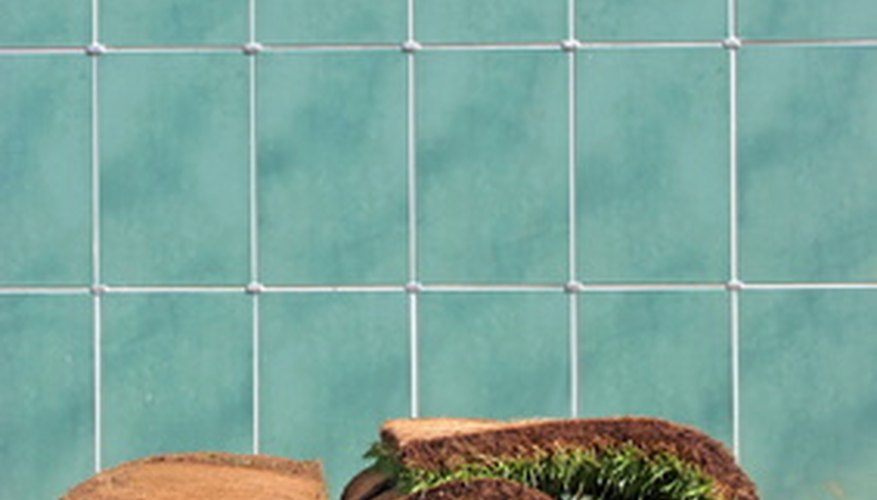 Planting Bermuda grass sod in Texas can be done anytime between April and September. Laying sod is more expensive than seeding, but the benefits of laying sod are worth the added expense. Laying sod gives you the benefit of an instant lawn that can be walked on in as little as three weeks. Laying sod decreases the time spent on establishing the lawn, and also helps establish your lawn in areas in which seeding would be difficult, such as slopped and shaded areas.
Water the area to promote new weed growth. Kill any weeds or unwanted grasses by spraying a non-selective herbicide over the area. Non-selective herbicides kill unwanted weeds and grasses but do not linger or travel through the soil, harming other plants. Wait two weeks before planting your Bermuda grass.
Till the soil to a depth of at least 6-inches. Improve shallow Texas soils by adding 2 to 4 inches of organic soil amenities such as peat moss, compost or manure. Adding organic material helps loosen clays, improve air circulation, increase water penetration, reduces erosion, reduces the alkalinity and helps sandy soils retain moisture.
Rake through the soil to mix the organic matter into the tilled soil and remove any debris, rocks or dead weeds. Level the soil and grade it to a slope of 1 foot for every 50 feet away from your house. Grading sets the slope of your lawn and improves the drainage. Water the lawn area two or three days before installing the sod.
Unroll the Bermuda sod and position each piece so the sod fits together tightly. Fitting the sod pieces together tightly keeps the sod from drying out.
Water the Bermuda sod well, allowing the water to soak through the sod and into the soil. Water every day for two weeks or until the sod establishes new growth.