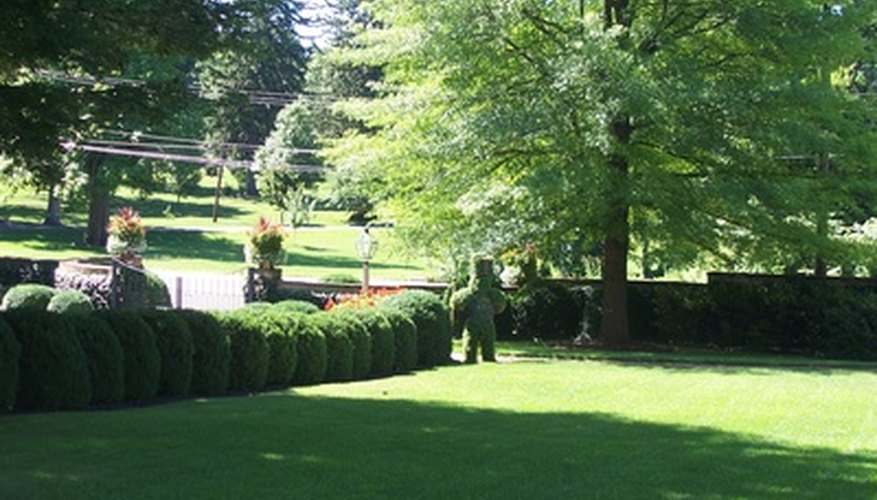 Nothing else you can do for your lawn will improve compacted soil more than aeration, according to Texas A&M's turf management experts. Use a core aerator that pulls plugs of soil out of the ground, rather than a spike aerator, which merely plunges a series of spikes into the ground. Spike aerators can contribute to compaction instead of improving it. Aeration also reduces thatch build-up and improves water penetration.
Aeration Timing
Aerate your lawn when the grass is actively growing. For cool-season turf (fescue, bluegrass and perennial rye) that means mid-spring and early autumn. For warm-season turf (Bermuda, St. Augustine and zoysia) that means two to three weeks after it breaks winter dormancy and no less than 4 weeks before it enters winter dormancy. If you are going to aerate only once per year, fall is the best choice in cool-season turf and early summer is best for warm-season turf.
Aeration Preparation
Cut the lawn slightly shorter than normal just before aeration. Don't cut more than one-third the blade length of the grass, which may mean you have to cut twice, a few days apart, to achieve the shorter cut. Lawns need to be moist, but not soggy. Two days after an inch of rain is ideal in most soil types. If the rain won't cooperate, you need to water. Mark the location of irrigation heads, cable television, telephone and electric lines. Note that most location services only mark trunk lines, not the line that runs from the trunk line to your house.
Hole spacing
With most core aerator designs, you will need to make at least two passes on all areas of your yard. Insure even distribution by making the passes perpendicular to each other. After two passes, measure a few random 1 foot by 1 foot spots in your yard and count the holes. Each square foot should have at least 12 holes in it. If they don't make another pass or two until they do.
Leave Plugs
Resist the temptation to rake up the plugs. Their input into the top of the turf is one of the best benefits of aeration. You can drag the yard with a weighted section of chain link fence three or four days after aeration to speed the breakdown of the plugs, if desired.
Lawn Care After Aeration
Simultaneous aeration and fertilization enhances both practices. Avoid collecting the lawn for several weeks after aeration, the plugs make a mess of your bagging equipment and you want the plug material working down into the turf. The first few cuttings after you aerate will be hard on your blade. Plan on sharpening it a few weeks after aeration.