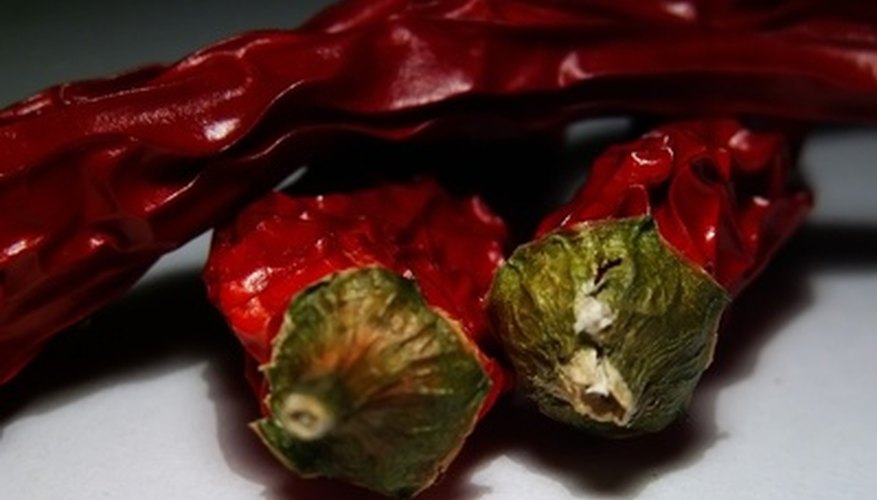 Water pepper plants with consistent weekly soakings to develop disease-free deep root systems that produce full healthy foliage, bearing a bountiful harvest of fruit. Whether the garden is planted with sweet peppers or hot peppers, the method of watering is the same. To ensure a successful season, it's necessary to first build a uniform soil moisture level in the garden. When the uniform moisture level is achieved, all that is required is to follow basic gardening guidelines regarding the amount of water and how it is applied. Compensate for extreme soil and climate conditions once the basic method of watering is implemented.
Develop a uniform moisture level in the soil to a depth of 6 inches by watering the garden before planting the pepper plants. Test the soil by digging into the ground in various locations with a trowel to ensure that the soil is moist, but not wet and sticky.
Lay a soaker hose, available at home improvement stores, down each row and apply 2 inches of water to the stems of the plants each week. Water the plants in the morning, being careful to keep the foliage dry. After watering, test the soil to make certain the uniform moisture depth remains at 6 inches. Push a long screwdriver into the ground to quickly test various areas of the garden. If the screwdriver penetrates easily to a depth of 6 inches, the soil is moist enough. If you encounter resistance, then the soil is dry.
Test the garden soil for uniform moisture level throughout the week to determine if the garden requires additional water. A sandy or extremely well drained garden might cause the soil to become dry. Under-watering can result in small fruit, blossoms shedding and dry rot on the tips of the peppers. Over-watering can cause root rot, a lethal condition for the pepper plants (See reference 1).
Mulch the garden with plastic or at least 2 inches of organic mulch, both of which are available at the garden center, to assist in maintaining a uniform moisture level in the soil (See reference 2). Plastic mulch is effective, but requires a soaker hose to be lain down each row throughout the season.