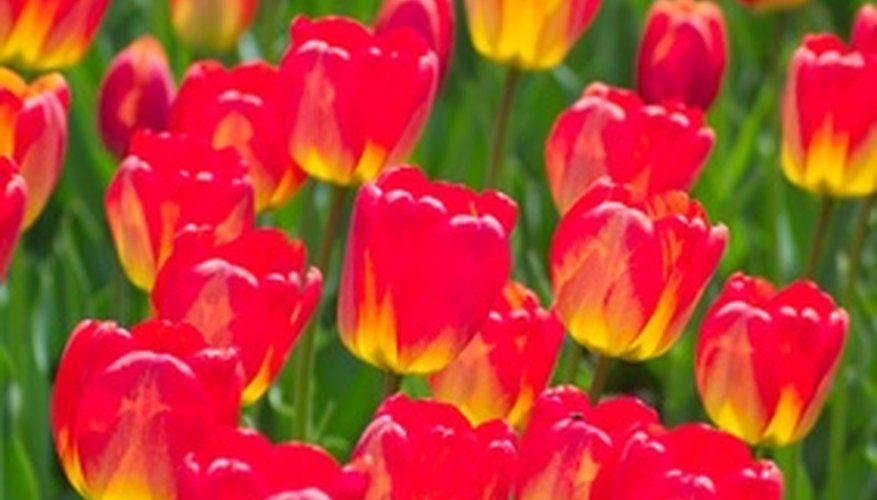 You planted some bulbs last fall and can't remember what you planted where. Or, perhaps you've inherited a flower bed and want to determine what plants are in it. Bulbs are divided into two groups: spring- and summer-blooming bulbs. Daffodils, crocus and tulips are spring-blooming bulbs, while gladiolas, cannas and dahlias are summer blooming. Bearded iris bloom in late spring and are technically considered bulbs, as well, although they grow from underground stems called rhizomes. Most bulbs grow in clusters and the clusters increase in size each year. Divide bulbs every few years to invigorate their growth.
Examine the bulbs if possible. True bulbs such as tulips and daffodils are small, papery and have a pointed end. Corms, including crocus and gladiolas, have a swollen, modified stem. Rhizomes are thick, fleshy stems that grow in clusters.
Consider the leaves. Daffodils, tulips, hyacinth, iris, glory-of-the-snow and gladiolus have elongated, spear-like leaves. Some of these leaves turn brown when the flower is done blooming. Dahlias have multileaved clusters, and cyclamen's leaves are somewhat round.
Examine the flowers. Dahlias and begonias are multipetaled. Some bulbs, such as hyacinth and gladiolus, have spear-like shoots of multiple flowers. Daffodils and tulips produce one papery bloom on each stem.
Consult gardening books and online sources for photos of bulb flowers to help you identify yours. Visit a local nursery and look at bulb specimens.
Cut a six-inch specimen of the plant, including leaves and flowers. Take the cutting to a bulb specialist at a reputable nursery for positive identification.