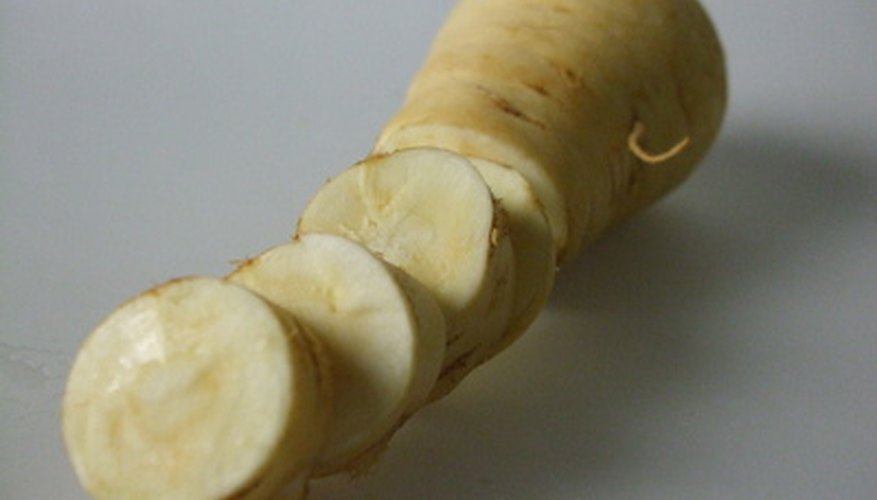 Few vegetables are harvested in winter in the UK, but several species will grow right through the coldest months. Freezing UK ground temperatures in winter restricts growth to the hardier varieties. However, UK gardeners can prepare for earlier spring harvests and a more even spread of crops by sowing in late autumn. Popular winter vegetables are available even during December, January and February.
Parsnips
Parsnips are low-maintenance vegetables, though they do have a reputation for difficult germination. The Royal Horticultural Society recommends sowing parsnip seeds in the UK under protective cloches in late March, April or early May. Remove cloches when two full leaves appear. Parsnips are ready to harvest when the leaves turn brown and die back in the fall. However, parsnips will stay in the ground right through to February. Roast and honeyed parsnips are popular in the UK in stews and Christmas dinners.
Brussels Sprouts
Brussels sprouts are a traditional British Christmas vegetable. Sow in mid-September to time the harvest for holiday meals. This allows for the 100-day growing period, according to the BBC. Seeds sown in late October will produce vegetables in January or February. Winter frost helps to firm up the brussels sprouts.
Broad Beans
Though broad beans won't produce crops in winter, they will start growing through the colder months. Sow in autumn and harvest in June to September when the pods are plump and green. Broad beans grown over winter are more resilient to the common UK pest, blackfly, according to the "Telegraph." The newspaper also recommends Super Aquadulce and Aquadulce Claudia as good varieties for growing in the UK over winter.
Rhubarb
Rhubarb is a hardy, tart vegetable that will grow and produce in winter if "forced." "Forcing" requires a large light-proof container. Place the container on top of young rhubarb crowns. Farmyard manure around the rhubarb helps to raise temperatures. In several weeks the rhubarb will produce light, pink stalks. It works best if set up just before winter, or in late February.
Garlic
Garlic requires little maintenance once planted and many varieties will grow right through cold UK winters. Disease-free garlic is available from most garden stores in the UK. Break apart the garlic heads and plant individual cloves at least 1 inch deep with 1 foot between cloves. Plant cloves in November for a crop harvest six months later, advises the BBC. Solent Wight is a popular UK garlic variety, according to the "Telegraph."