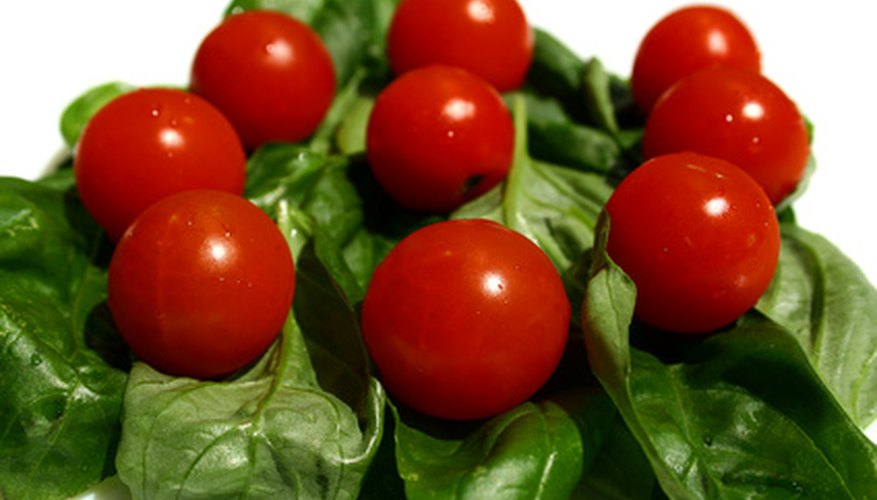 Leaf form among tomatoes is a genetic trait. "Regular" tomato leaves are serrated or saw-toothed. "Potato" leaf form is a recessive gene trait in which the leaves are larger, have fewer leaflets per leaf branch, and are not serrated. Dr. Carolyn Male, author of "100 Heirloom Tomatoes for the American Garden" reports that potato leaf tomato varieties are more resistant to foliar disease and show overall strong vigor.
Brandywine
Brandywine is the most popular potato-leaf variety available to tomato growers, particularly when all the Brandywine variants are included. The "true" Brandywine is a translucent-skinned or "pink" tomato with fruit normally in the 1 lb. range. Brandywine has variants in many different colors, a few in which the potato-leaf characteristic is absent. Brandywine's popularity stems from outstanding flavor, good productivity and disease resistance.
Missouri Pink Love Apple
Missouri Pink Love Apple is another large (1 to 1.5 lb) slicing tomato that exhibits the potato-leaf trait. It reportedly does well in the warmer climates of southern Illinois, Texas and the Ozark hills of Missouri and Arkansas. It should mature just a bit ahead of Brandywine—75 days versus 85 days—and produce slightly larger fruit.
Yellow Submarine
Yellow Submarine is a potato-leafed plant bearing small, pear-shaped tomatoes. It forms abundant clusters of 1/2 oz. bright yellow fruit. Several growers have reported improved flavor over the regular-leafed "Yellow Pear" variety. This variety first became commercially available from mail order sources in 2010.
Bloody Butcher
Bloody Butcher plants produce deep red tomatoes just right for wedges in a tossed salad at 1 to 3 oz. Requiring just 55 days to first harvest, Bloody Butcher offers the first taste of home-grown flavor weeks before most other tomato varieties.
Pruden's Purple
Moving back into the "slicer" category, Pruden's Purple produces deep red-fleshed tomatoes that average just under 1 lb. The variety dates back to the 1800s and is renown for excellent, sweet flavor and vigorous growth.
Victoria
Victoria lands half-way between the "saladette" size of Bloody Butcher and the 1 lb. or more beefsteaks. Sandhill Preservation claims Victoria has the highest yield of all potato-leafed tomatoes, with 8 oz. fruit that are uniform in size and slightly flattened. The productivity and size make this a good choice for canning.