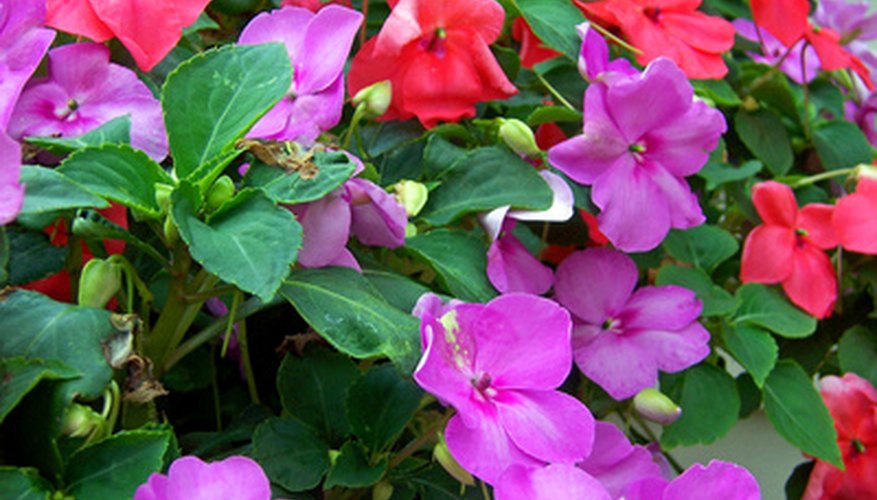 Impatiens are popular for being a shade tolerant, versatile plant. This flowering annual brightens up flower gardens and hanging baskets everywhere. Impatiens make a colorful statement where they are planted with colorful red, pink, and white shaded flowers. There are different types of impatiens varying from the New Guinea impatiens that are more sun tolerant to double flowered varieties.
Propagation by seed
Propagating impatiens by seed is an inexpensive way to grow a large number of plants. Seeds are started inside six to eight weeks before the last frost. Seedlings grow together in one seed tray, until the small plants have grown a second set of true leaves. The impatiens are then transplanted to individual growing cells. The new plants mature in six weeks, and are ready to be planted out.
Collecting impatiens seed
Seeds collected from impatiens are an alternative to buying seeds from the store. Seeds that are from non hybrid plants and stored in dry airtight containers will be viable to plant next season. A method for collecting impatiens seed is to tie a plastic bag around the seed pods. When the seed pod is dry and open, the seeds will fall into the bag for collecting.
Propagation by cuttings
Impatiens are also propagated by taking stem cuttings from a mature plant. A stem is removed from the plant and prepped for rooting. The bottom end of the cut stem is dusted with rooting hormone planted in a small pot. The new impatiens cutting takes four to six weeks to develop a healthy root system.
Hardening off
After propagating by seeds or cuttings, the new plants must go through a process called "hardening off" before they are able to be planted in their desired location outside. Seedlings are exposed to outside conditions for a small amount of time each day for two weeks. Each session the amount of time and sunlight exposure is increased. Proper hardening off is an important step in the propagation process.
Plant devision
Another method to propagate impatiens, is to divide large crowded plants in the garden. After the impatiens are established, dig up and divided one plant into two or more new groups. Replant and water promptly. The impatiens will grow to fill in their new location.