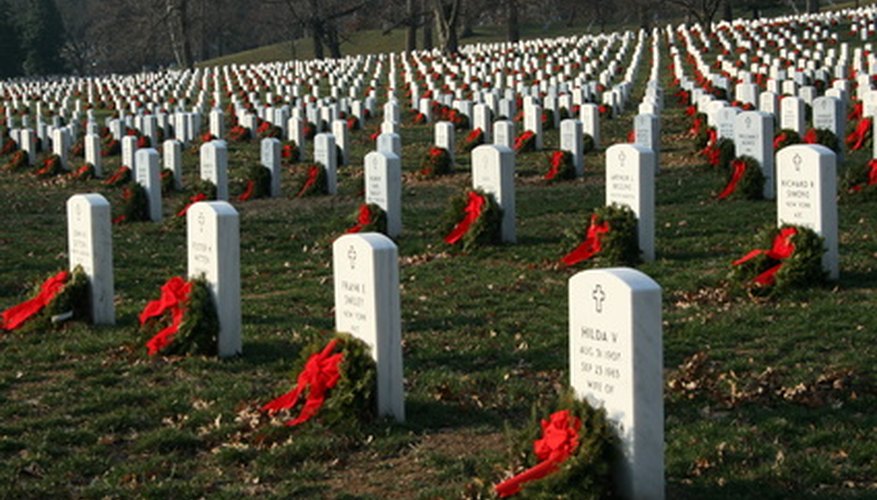 Grave blankets and wreaths are used to honor loved ones who have passed away. Many families place them graveside as Thanksgiving signals the beginning of the holiday season—and leave them in place until signs of spring appear. In the Midwest and Northeast, grave blankets and wreaths are about the only ways to decorate a gravesite when winter weather prohibits fresh floral arrangements.
Grave Blankets
Put on lightweight leather garden gloves to protect your hands. Cut chicken wire 1 foot smaller in length and width than the finished size you want for the grave blanket. A 2-by-4 foot piece of chicken wire will form the foundation for a 3-by-5 foot grave blanket.
Weave evergreen branches through the chicken wire, starting in the center and securing with floral wire as you work. As you near the edges, be sure branches face the edges to form an attractive border all around. Examine closely for any bare spots and fill in with additional branches.
Affix a large bow made with outdoor ribbon and ornaments to the grave blanket with floral wire or a hot glue gun. Pine cones and clusters of holly berries make natural ornaments.
Cut six to eight stakes out of wire coat hangers. Use them to anchor the grave blanket when you are ready to install it.
Grave Weaths
Bend two wire coat hangers into circular shapes.
Place wire coat hanger together and cover them with floral tape.
Take two to three pieces of evergreens and attach them to the wreath frame by wrapping stems with floral wire.
Continue adding two to three pieces of evergreen at a time, securing with floral wire until the circle is complete.
Affix a bow fashioned from outdoor ribbon and ornaments, using floral wire or a hot glue gun.
Things You Will Need
Lightweight leather garden gloves

8- to 12-inch evergreen branches

Chicken wire

Wire cutters

Pruning shears

Floral tape

Floral wire

Hot glue gun (optional)

Outdoor ribbon

Ornaments

Wire coat hangers
Tips
Many places sell Christmas tree branches they have trimmed from trees. The density and type of evergreen will determine how many branches you need for your project.

Wire wooden floral sticks affixed with pine cones and other ornaments to stand out from the evergreens.

Gild pine cones with exterior metallic gold paint to give a more festive touch.

Stakes to anchor grave blankets are available at florists, craft shops and online if you do not want to make your own.
Warnings
If you are using a metal wreath stand, be sure to wire to wreath securely to the stand and push the stand at least 6 to 8 inches into the ground in anticipation of winter storms.

Many cemeteries have rules as to what is acceptable: Some limit the size of grave blankets. Others do not allow you to use any plastic or silk flowers within grave blankets or wreaths. If you are unfamiliar with cemetery policy, call the cemetery office and ask about their particular requirements.