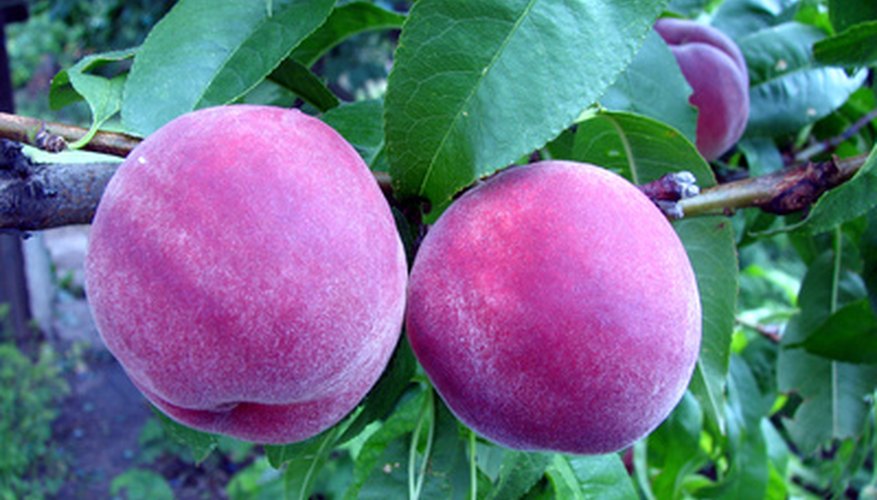 Peaches grow well in California, since the trees respond well to warm to hot summer weather and mild winters. The fruit can be eaten fresh, baked into pies or cooked into preserves. While peaches grow commercially in the state primarily in the San Joaquin Valley and northern California's central valley (north of San Francisco and south of Chico), gardeners can grow backyard peach trees throughout the state. Purchase and plant peach trees in the spring in California.
Determine whether you want to plant a white-fleshed peach or a yellow peach. White peaches are sweeter and have low acidity. Yellow peaches are sweet but have more of a complex flavor than the one-note sweetness of the white peach.
Review the list of either white or yellow peaches that grow well in California, using the peach guides from California Tree Fruit and Harvest Wizard (see Resources). Write down the names of any peach varieties that interest you for your garden based upon the flavor profiles at Harvest Wizard.
Visit local nurseries in the spring to browse available peach cultivars. Choose a tree from the cultivars on your list. If you see no varieties you want to plant, ask a staff member what makes a good substitute to the peach trees on your list. Then select a tree from her recommendations.
Choose a peach tree with a long, straight trunk and few branches. Avoid trees with several branches clustered at one side of the tree or with only one branch. Bent trees will not grow straight. Avoid buying a peach tree with a stubby trunk and low branches in favor of one with a straighter, leaner profile.
Order a peach tree from an online nursery only as a last resort. Since you won't be able to inspect the tree before you buy it, you may end up with an inferior tree.