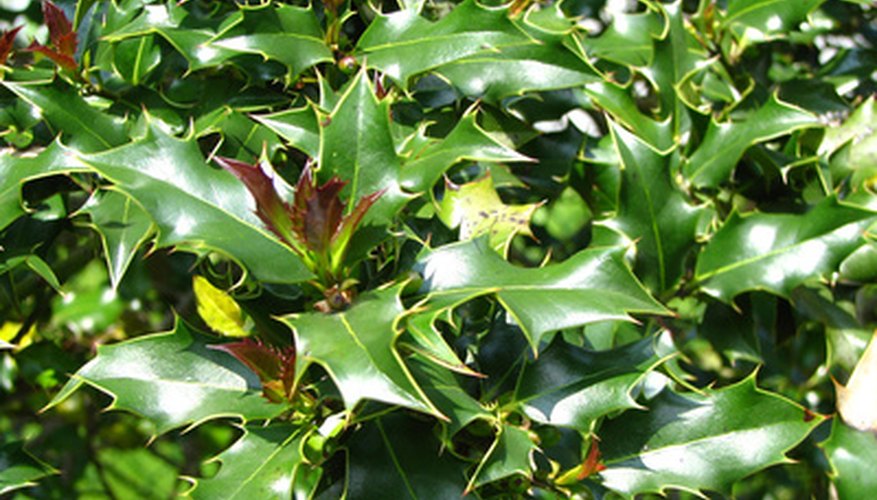 Holly bushes are best known for their one-of-a-kind, waxy green foliage. Characterized by their deep red berries, holly bushes are found growing in gardens in many locations included homes and business. They are recognized by their simple beauty. However, holly bushes are also notorious for their sharp, pointed leaves that can leave you thinking twice about touching them. Removing holly bushes from your lawn or garden can be easily done when the right precautions are taken. Dress yourself in protective clothing, such as long sleeves and gloves, when working with the holly bush. The sharp leaves can easily cause injury.
Prune back as many branches from the holly bush as possible, exposing the main trunk of the holly bush.
Cut down the main trunk of the holly bush using a chain saw, leaving only a short stump.
Dig around the stump with a shovel to expose the roots of the holly bush.
Chop the roots of the holly bush using a chopping axe, working with the stump to loosen it from its hole.
Remove the holly bush stump from its hole by placing a shovel underneath the root ball and prying upwards.
Discard the pruned branches and the stump of the holly bush and fill in the hole where the holly bush previously grew with some loose soil.
Things You Will Need
Protective clothing

Pruning shears

Chain saw

Shovel

Chopping axe
References