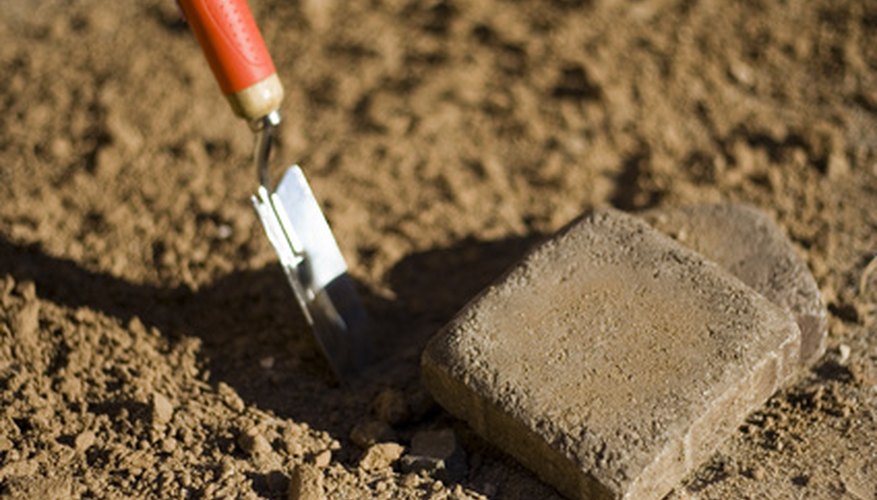 The perfect soil for most plants is a relatively equal mix of sand and clay particles known as loam soil. Unfortunately, most gardeners don't have loam in their gardens and must improve the soil before plants will thrive. Sandy soils drain water quickly, but don't hold nutrients well. Clay soils tend to be cold and water-logged. They become compacted easily and are difficult to work. Your soil probably falls into one of these two categories. But don't despair. Consider good garden soil an investment and work on it a bit each year.
Remove all weeds, rocks and debris from your garden area. For very weedy areas, lay a sheet of black plastic over the soil four weeks before you want to plant the garden, or in early spring. Secure the plastic with rocks. The heat of the sun and the black plastic will kill the weeds, making it easy to remove them. For perennial weeds like quackgrass and thistles, apply an herbicide according to package directions.
Scoop samples of soil from several areas in your yard into the vials or bags that came with your soil test kit. Mail the test kit to your local extension office. Your soil results will come in a few weeks and will detail the make up of your soil as well as the pH level and nutrient deficiencies.
Assess the site for drainage. Plants such as vegetables and perennials need a well-drained site and won't grow successfully on a steeply sloped site. Fix drainage problems by adding soil or building terraces before planting.
Lay compost, manure and peat moss on your garden soil in equal amounts, but adding no more than a total of 2 inches. Peat moss is excellent for improving soil texture and drainage but is very dry. Wet peat moss with a hose before adding it to the garden. It should feel as wet as a wrung-out sponge. Add any other amendments recommended by your soil analysis report, such as lime or sulphur for adjusting the pH level.
Shovel your soil under to a depth of 12 inches or till larger garden areas with a rototiller. Remove any rocks and break up dirt clods. Rake the soil until it is level and smooth.