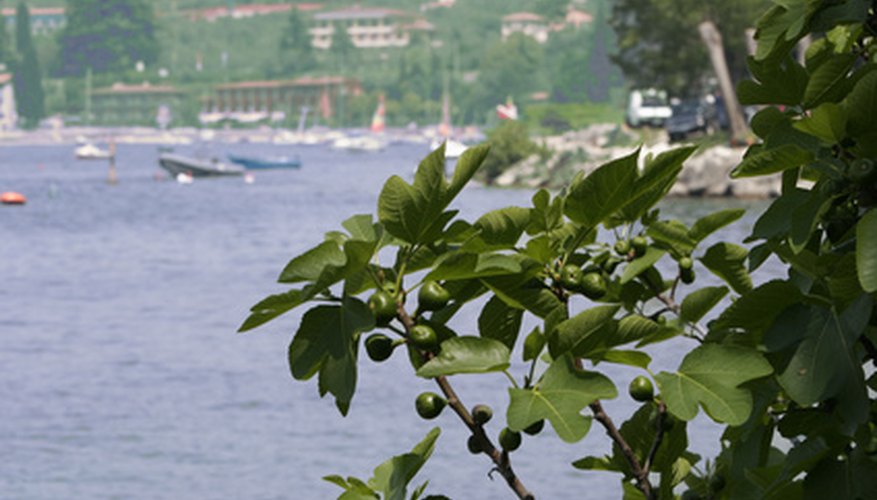 Fig trees produce sweet, soft fruit suitable for cooking, canning, jellies or eating fresh. The trees grow readily and range in height from 10 to 30 feet. Figs come in two main varieties, green or black. Beyond this basic distinction, gardeners will find many varieties to choose from. Purchase a fig tree in the spring and plant soon so the tree is well established for winter's cold temperatures. Fig trees planted in the fall may suffer if your area experiences cold temperatures.
Create a list of fig varieties you're interested in planting, using the lists at Purdue University and California Rare Fruit Growers (see Resources). Black Mission, Brown Turkey and Celeste are commonly grown black figs. Popular green fig cultivars include Kadota and Adriatic. In general, black figs have a sweeter taste, while green figs have a lighter, fresher flavor.
Visit local garden centers and nurseries to browse available fig trees. If you don't see varieties you are interested in planting, ask nursery staff if trees can be ordered. If not, ask for a similar fig tree that will perform well in your area.
Examine the fig trees once you've located a suitable variety. Select a tree with a straight trunk and strong, healthy branches. Avoid trees with weak branches. If you're purchasing a bare-root fig tree, choose one with plenty of roots and avoid trees with scraggly or slender roots.