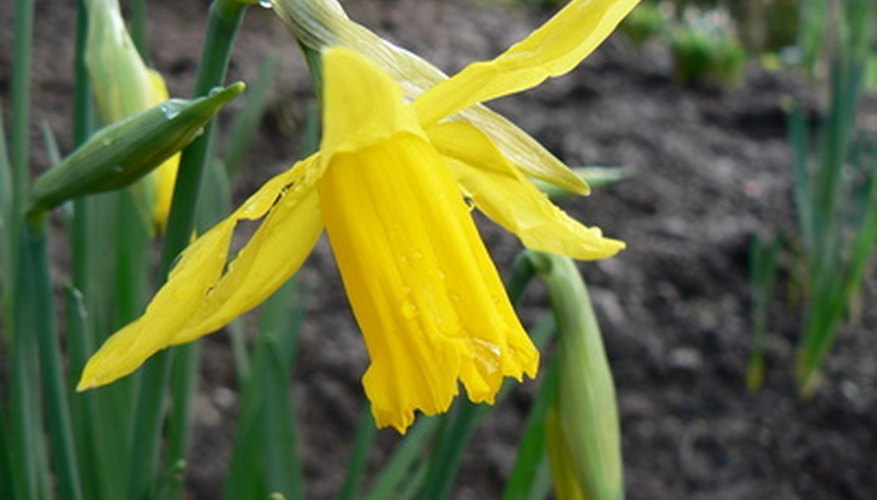 Preparing a flower bed is a time-consuming procedure and needs to be done meticulously. Soil preparation, sun exposure, watering requirements, color arrangements, landscaping requirements--all these need to be considered for choosing the right flower bed plant. The process does not end here. Flower bed plants also need to be cared for properly so that they produce perfect blooms throughout the period the flower bed exists.
Morning Glory
As the name suggests, morning glory flowers provide a glorious sight with variations of blue, white and crimson colors. Belonging to the Ipomoea genus, it is a fast-growing flowering plant with mid-green leaves. Other varieties of this flower family include 'Pearly Gates', 'Heavenly Blue', 'Crimson Rambler' and 'Flying Saucers', all which can be distinguished by color differences of the flowers. Morning glory grows well in moderate fertile soil. Plant the seeds directly in the flower bed during spring time, in full sun. It takes about 8 weeks to produce blooms. Morning glory grows up to 10 feet tall, thus the vine should be provided support and protected from cold winds to keep it safe from withering. To prevent white blister, fungus and rusts, the soil has to be well-drained.
Hydrangea Macrophylla
The rich colors of hydrangea macrophylla--blue, pink-purple, lavender, red or white--can significantly enhance the aesthetic value of a garden. Belonging to the Hydrangea genus, this perennial is widely used in flower beds. The varieties in this species are distinguished by the color and the different shapes of flowers it produces. The Hortensias variety has globe-shaped features whereas the Lacecaps carry a flattened flower head. These plants should be grown in moist, well-drained soil that receives partial shade. Blooms appear in summer. The plant is susceptible to rust, slugs, and ringspot virus. It can be propagated by planting seeds, but the best method would be to transplant saplings to the flowering bed.
Coneflower
Coneflower produces aromatic blooms with petals of russet-orange and reddish-brown colors. This perennial belongs to the Echinacea genus which is also known as Echinacea 'Sundown'. Growing up to a height of 5 feet, the plant is characterized by large leaves, branching stems and wide flower petals. The blooms appear best when the plant is placed in a well-drained soil that receives ample sunshine. While pruning, the stem should be cut back to promote better flower growth. Blooms of these plants occur during the late summers and early falls.
Daffodil
Daffodil is one of the most popular flowering plants among gardeners. Belonging to the Narcissus Jonquilla genus, flowers of daffodils are characterized by rich yellow colors. Daffodil flourishes in the spring season. The American Daffodil Society suggests that the bulb should be left in the ground for next year, after it has produced blooms. A good amount of sunlight and partial shade with medium moisture will ensure good blooms.