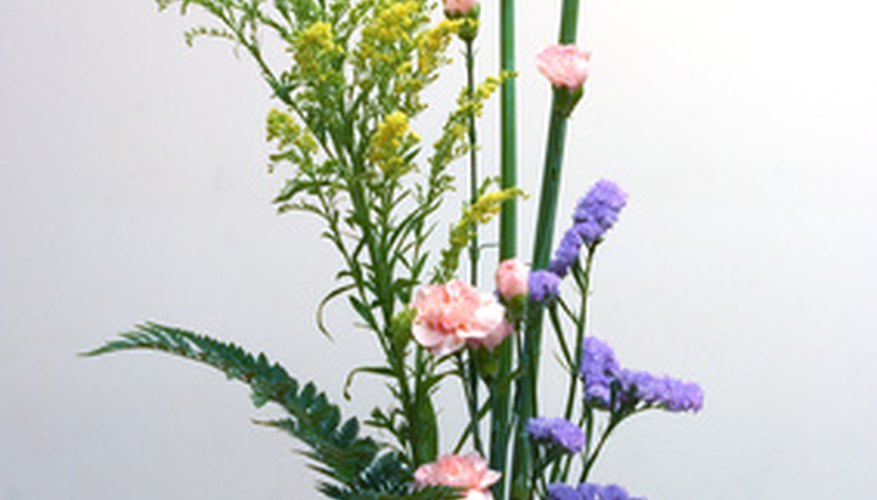 The art of Japanese flower arranging is known as ikebana, which means "living flowers." Creativity thrives within disciplined boundaries. Ikebana was established in Japan over 600 years ago with the country's introduction to Buddhism, and floral offerings to the spirits of the departed became a part of religious ceremonies. Today's ikebana designs continue to represent humanity's relation to nature and heaven. Over the centuries four main styles of ikebana emerged and remain.
Ikebana
Every ikebana is regarded as a living object, according to Ikebana International.org. Natural elements including branches, leaves, grasses and flowers are studied for their color and shape. Spent leaves, dried seed pods and berries are held in equally high regard. Vessels are often made of bamboo, pottery, wood or stone to represent harmony with nature. Three branches representing heaven, earth and man are a foundation for all ikebana. In Japan, a house is not a home without ikebana. The arrangements bring both nature and art to the home.
Rikka
Rikka means "standing flowers," and this style has grand proportions, primarily because it was created to fill large, formal spaces within castles. Three main branches, often in a natural Y shape, form the base for inserting floral and other natural clusters. The use of open space is equally as important as the natural elements selected in achieving balance. The arrangement dominates the space, and is often three to five times larger than its container.
Nageire
"Throw" or "fling" may be translations for nageire, however there are rules to follow to achieve its free-form, flowing movement. Once a tall vessel has been selected, the first branch is always one or two times taller than the vessel's height. The second branch is 25 percent smaller than the first branch; the third branch is 25 percent smaller than the second branch. While large vessels may be used, the overall feeling is far less studied than with Rikka. Many schools advocate the use of wildflowers in Nageire arrangements.
Seika or Shoka
The approach to flower arrangement is very linear in Seika or Shoka. At classical ikebana schools, students are taught to work with only two varieties of materials within the arrangement. Modern ikebana schools often use three varieties that join as if they're one. Foliage is never within three to four inches of the container's rim. If a flower is used, it always represents the smallest branch, following the proportions of Nageire. Holders are often used to gather the materials into one whole. It is simple and graceful, following the natural way a plant grows. Many consider this the hardest style to master.
Moribana
Shallow dish arrangements and structural asymmetry are key to Moribana, which means "piled up." Imagine three fresh bamboo stalks cut to different heights; three flowering tree stems cut to different heights and three flowers trimmed to different heights--all artfully placed in rows to achieve beautiful asymmetrical balance. Many homemakers attend ikebana school in Japan to learn all the nuances of Moribana.