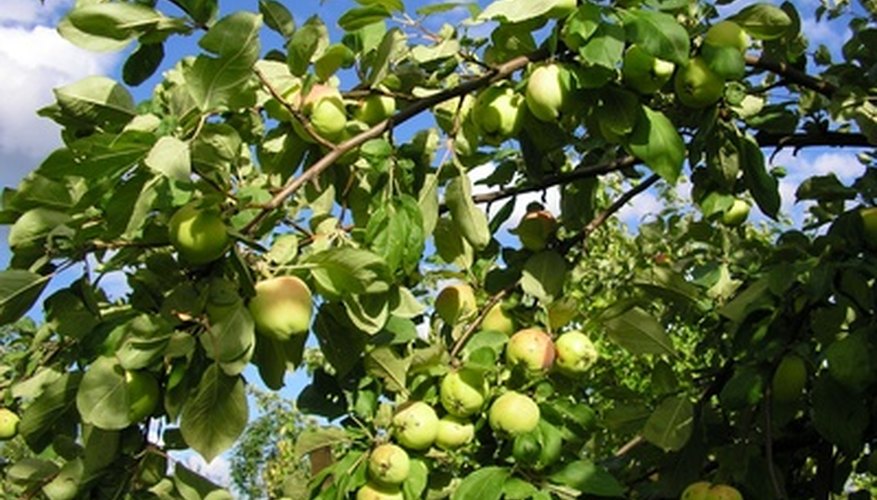 Growing fruit-bearing trees is a good option for gardens. Apart from yielding delicious fruits, they also provide the garden with shade and some amount of protection from direct sunlight heat. The type of fruit tree to be grown in the garden depends on the climate, kind of soil, amount of care required and the personal preferences of the grower.
Apples
Apple trees are available in standard, dwarf and semi-dwarf types. Apple has to be planted in a spot that receives sunlight most of the day. Early morning sunlight is especially important to clear the dew and prevent diseases. The drainage quality of the soil is more important than the soil fertility. Two or more trees have to be planted, because apple trees require cross-pollination to produce fruits. The tree requires good care and attention during its entire lifespan. Pruning, fertilizing and fruit thinning need to be done regularly.
Pears
Pear trees are available in three major varieties: European or French, Oriental hybrid and Asian. The European variety is prone to fire blight attacks. Pear trees require well-drained soil and good sunlight. The tree can even be grown in sandy soil. To bear the fruits, you need two or more trees to allow for cross-pollination. Continuous care in the form of pruning, training, fertilizing, weeding, fruit thinning and harvesting is required.
Peaches
Anzac, Halehaven and Fragar are some of the good varieties of peach trees. The tree attains a height of 15 to 25 feet. The dwarf variety grows up to 6 feet. Peach trees need bright sunny conditions and well-drained soil. Peaches are self-fertile and so different varieties need not be planted. Brown rot, scab and rot are the diseases that may attack the peach trees. Care in the form of pruning, training, weeding and fruit thinning has to done regularly.
Plums
Plum is a hard tree and has three broad varieties: European, Damson and Japanese. The saplings should be planted in a loamy well-drained soil that receives ample sunlight. Spacing should be 20 to 25 feet for standard varieties and 15 to 20 feet for the dwarfs. Some varieties need cross-pollination, while some do not. Plums are mostly pest and disease free but may sometimes be affected by plum curculio, black knot disease and brown rot. Plums will fare better with care in the form of pruning, training, fertilizing and mulching.
Apricots
Apricots are well suited to be grown in almost all areas of the United States. Apricots should be planted in early spring. Spacing between two trees should be 25 feet in case of standard varieties and about 10 feet in case of dwarfs. Bright sun and well-drained soil are essential for this tree. Most of the varieties are self-fertile.