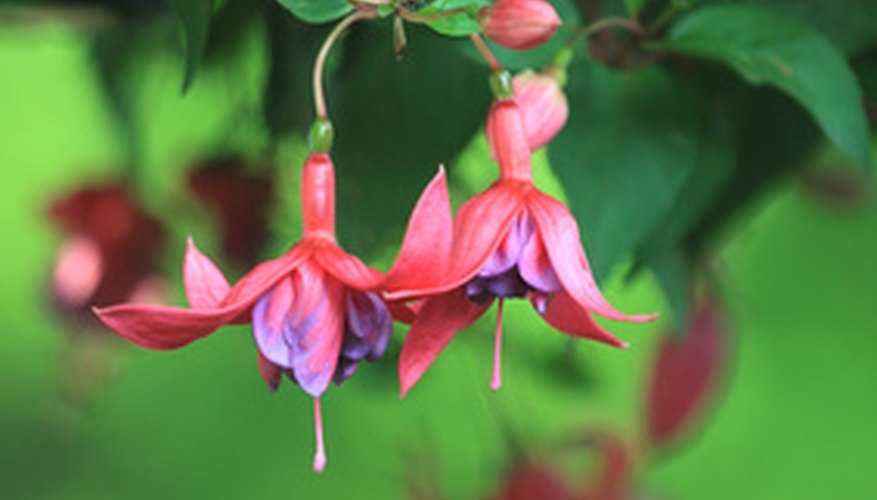 Flowering plants in the front garden or patio make an attractive addition to the house, and provide a welcoming vista to visitors and residents. Intermingling of attractive flowering plants and evergreens can create a pleasant contrasting effect. A variety of flowering plants in various colors are available to the discerning home gardener.
Daylily
Daylily is a low maintenance flowering plant that can adapt to various soil and climate conditions. The plant establishes and grows very quickly and produces flowers in different colors. Some varieties of the daylily also have fragrant flowers. Daylily is popular as a perennial border flowering plant, though it can also be planted to cover large areas. Daylilies thrive in full to partial sun and require soil that is rich in organic nutrients. The plant can be planted anytime of the year in soil that has been tilled deeply and infused with generous amounts of organic nutrients.
Peony
Peony plants are popular thanks to their strikingly colored flowers. In full bloom, the plant infuses the garden with a gentle perfume. The glossy green foliage of the plant lends a striking contrast to the colorful flowers, increasing the aesthetic value of the garden significantly. Peonies prefer full sun and grow well in soil that drains well. When planted in suitable conditions, peony plants produce flowers for many years. Peonies can be planted in combination with daylilies and chrysanthemums for an attractive border.
Fuchsia
Fuchsia plants, with their unusually shaped, two-toned flowers, make an exotic addition to the yard. Fuchsia plants can be grown in an outdoor garden, but look best in containers or hanging baskets. The brightly colored flowers hanging down from lush, deep green foliage are beautiful. Fuchsia plants grow best in full sun, but cannot tolerate extreme heat. It is best to plant them in areas of the house with partial shade. Fuchsia must be watered daily and treated with nutrients and fertilizer at least every two weeks.
Chrysanthemum
Chrysanthemums are flowering perennials that belong to one of the largest families of flowering plants. Though chrysanthemums are partial to sun, they can be grown in most weather conditions. Chrysanthemums grow with a minimum of care. The plants must be planted in soil that is rich in nutrients and drains well. They should receive a good amount of direct sunlight during the day. Once the plant is established, the flowers will add colorful cheer to the garden and will continue to do so for many years if cared for properly.