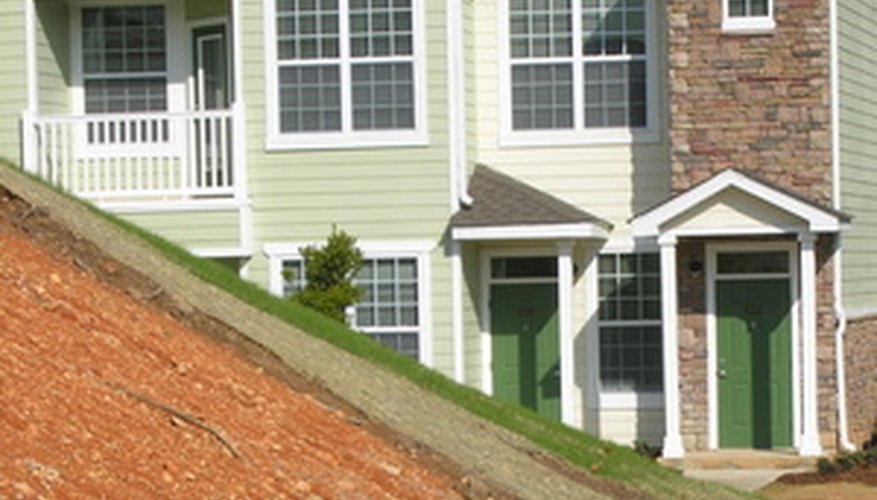 An untamed slope in the yard presents a frustrating problem. Every time it rains, the soil erodes. It stands between you and a beautiful landscape. Planting grass might work, but no one wants to mow uphill. A slope adds a beautiful dimension to the yard when properly landscaped, and there are many solutions to landscaping one.
Slow Water Runoff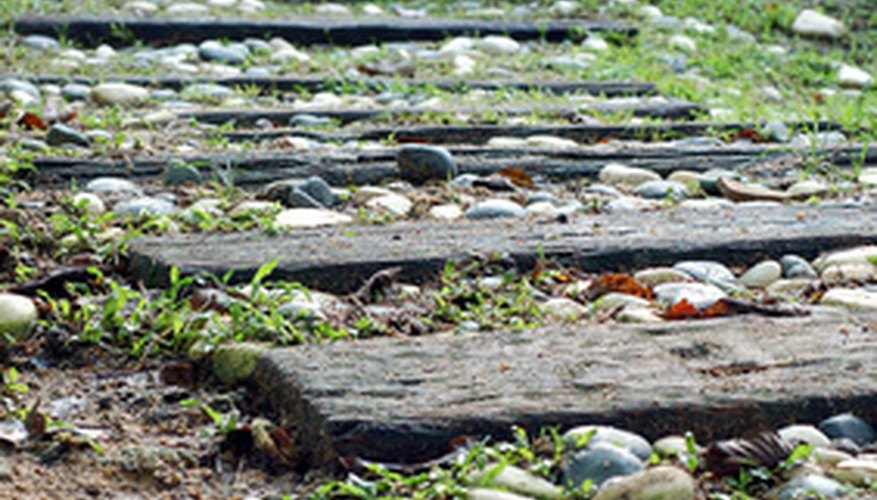 Slow the water runoff by creating baffles with landscape edging, railroad ties or timbers. Measure the length of the slope, and decide how many baffles you'll need. Depending on the degree of the slope, you may need to dig a little to secure the baffles. Once the baffles are in place, plant each section with perennials, bushes, trees with small root systems and junipers, for example. Tuck in a few annuals if you wish, but don't make them the majority of plantings. They won't hold in the soil, and you'll need to replant each year. Baffles slow the flow of water, allowing the plants to soak up the rain.
Install a Water Feature
Install a waterfall on the slope. Start by installing electricity nearby to run the pump. Decide what you want the runoff to do: Water plants on the slope or cascade over rocks in a stream. Set up the pump and water feature, and plant or terrace with rock. You could also do both.
Build a Retaining Wall
Build a retaining wall to keep soil from eroding, and use plantings to further keep soil in place. Plants should have good root systems and not require replanting each year. Add some plants to tumble over the top of the wall, and tuck plants in the nooks and crannies of the wall. Nooks and crannies obviously won't work for a cement block wall.
Terrace a Slope
Terrace a steep slope with several low walls. Railroad ties are one inexpensive way to do this. Stack them on top of each other to create a fence-like appearance. Stones, masonry blocks and lumber can also create strong walls.
Plants on the Slope
Plant the entire slope to control water runoff and erosion. Good root system plants, like trees, shrubs, bulbs, and perennials, anchor the soil. Groundcover plants such as sedum and pachysandra form mats and control weeds.
Build a Deck
Build a deck on a slope. A multilevel deck creates a dramatic, visual effect and offers many possibilities. Potted plants, natural plantings and patio furniture transform a multilevel deck into an outdoor living space.
Landscape with Rock
Landscape a slope with rock. Large rocks and boulders are available at landscape businesses, which will usually deliver for an added charge. Bury large rocks one-third to one-half deep. This will take some planning ahead of delivery and possibly a backhoe. Once the rocks are in place, plant your favorite foliage around them.
Build Steps
Build meandering, wide steps on a slope to make climbing easier. Place potted plants and maybe a bench along the steps for visual appeal.