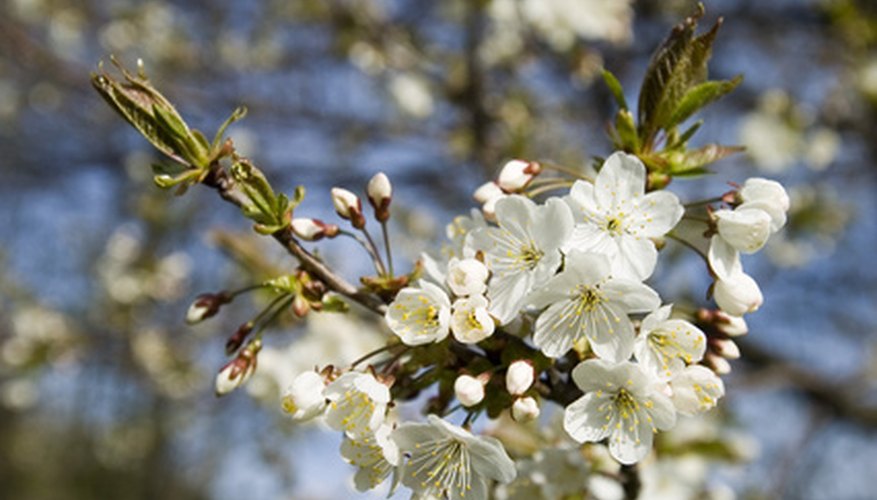 While cherry trees are naturally pollinated by the honeybee, gardeners can pollinate their cherry trees themselves in the event they have bee allergies or if honeybees are scarce. Time is of the essence when pollinating fruit trees by hand, so order your cherry tree pollen ahead of time. Blossoms are receptive to pollination for just a short time window before they shed their pollen naturally and cannot be pollinated at all—typically three days after opening.
Set up your ladder beside your cherry tree so you can reach higher branches on the tree.
Tie a thread around the end of your number 4 art brush 1/2 inch from the end of the bristles. Then cut the bristles leaving only 1/4 inch beyond the thread, making it easier to target the flower center for pollination.
Open your jar of pollen. Dip the brush into the jar, then tap the brush on the edge of the container to shake off excess pollen.
Touch the brush to the center of one flower to pollinate it. Pollinate up to seven more flowers before dipping the brush back in the jar of pollen to apply more pollen.
Pollinate all blossoms in this manner. Move the ladder as needed to access higher branches on the cherry tree.
Things You Will Need
Ladder

Number 4 art brush

Thread

Scissors

Cherry tree pollen
Tip
To adequately pollinate cherry trees, Firman Pollen advises applying your pollen by hand twice. Make the first application 12 to 20 hours after blossoms open, then make the second after the flowers have been open for 40 hours.