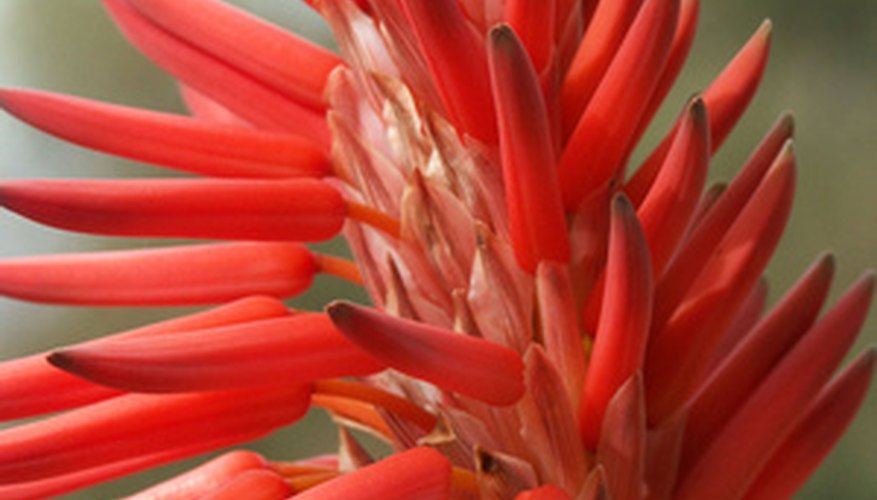 While aloe vera may be the most well-known member of the aloe family, succulent lovers will find more than 300 types of aloe to add to their collection. Native to Africa, aloes vary in size from shrub-like clusters to small plants. Gardeners should grow aloe indoors unless they live in a subtropical or tropical climate.
Aloe Angelica
Wylliespoort aloe or Aloe angelica is native to South Africa and grows in USDA hardiness zones 9b to 11 or as a houseplant. It is not cold hardy and must be moved indoors before any frost. This aloe can reach up to 12 feet in height and produces flower clusters that start out red and turn yellow when they open. Aloe angelica needs full sun to part shade in tropical zones. The plant's leaves are light green with red-tipped edges.
Tree Aloe
Tree aloe (Aloe arborescens)--also called Krantz aloe or candelabra aloe--is most notable for the red flowers that grow on stalks shooting from the center of the aloe rosette. Cone-shaped flower clusters bear dozens of small red flowers; a yellow variety also exists but is rarer. Tree aloe features pale greenish-blue leaves with jagged teeth. This plant grows in either sun or shade and is hardy in USDA zones 9 to 11. Native to southern Africa, it may reach up to 16 feet in height. Tree aloe is cold hardy to 25 degrees F.
Gold Tooth Aloe
Gold tooth aloe (Aloe mitriformis) is a compact plant, reaching no more than 6 to 7 inches wide by 12 inches tall. Native to South Africa, this aloe grows in full sun and can live outdoors in USDA zones 9 to 11. Gold tooth aloe gets its name from the pointed yellow teeth that line the plant leaves. The leaves themselves are spring green or green with white flecks. The plant may develop red flowers on single stalks in the summer.
Zebra Aloe
Zebra aloe or soap aloe (Aloe maculata) has green leaves with long white bands that give the plant its common name. The leaves can withstand cold up to 28 degrees F; the plant grows outdoors in USDA zones 9b to 11. Zebra aloe grows in clumped rosettes up to 18 inches tall by 16 inches wide. Place the plant in part shade to full sun. In the spring and summer months small orange flowers appear.