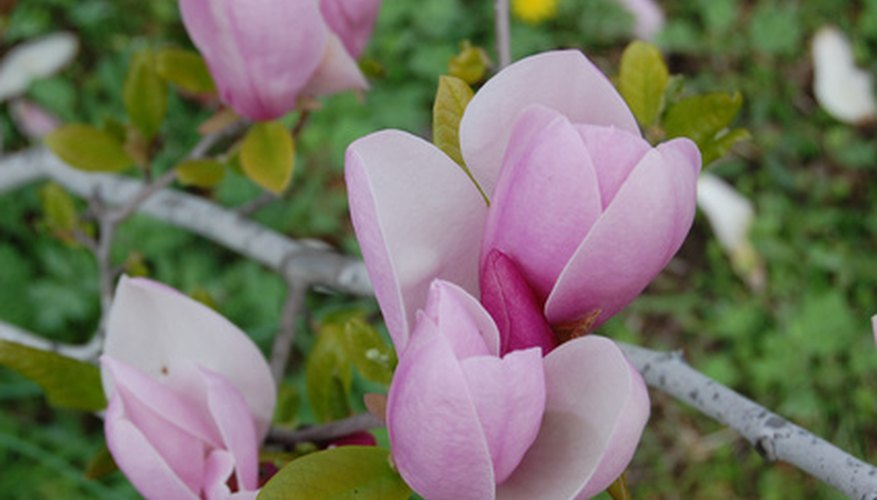 Spring blooming trees provide a splash of color in a sometimes barren landscape. Gardeners with a soft spot for purple can choose several purple flowering spring trees to enrich their homes. When planting new trees, wait until frost danger passes in the spring for your area. Prune flowering trees annually after they bloom to promote the growth of new flowering wood.
Magnolia
Magnolia blossoms come in pinkish-purple and are one of the first spring flowers. Some varieties have deeper purple blossoms than others. Magnolia trees can grow in either full sun or part shade and bloom on buds that have overwintered on the tree. Prune magnolia sparingly since the trees are susceptible to injury and disease.
Rose of Sharon
Also called shrub althea, Rose of Sharon (Hibiscus syriacus) produces lavender flowers with a deep red center and a white stamen. The flowers greatly resemble a related plant, hibiscus. Native to Asia, Rose of Sharon has been growing in the United States since the 1600s. This tree grows in hardiness zones 5 to 9 and prefers full sun.
Redbud
The redbud (Cercis canadensis) is misnamed, since its spring blossoms are pink to light purple in color, not red. Redbud trees bear tiny flower clusters that give way to tiny brown seedpods. Redbud trees have skinny trunks and only average 30 feet in height. Gardeners in the eastern United States should choose eastern redbud trees, while those in California and the Southwest can grow western redbud.
Purple Leaf Plum
Purple leaf plum (Prunus cerasifera) features glossy dark purple leaves and pale-pink to purple flowers in the springtime. This tree grows in hardiness zones 4 to 9 and prefers full sun. A mature tree can reach 25 feet in both height and spread. The small plums produced by the flowers attract birds and wildlife; however, they're not edible by humans.