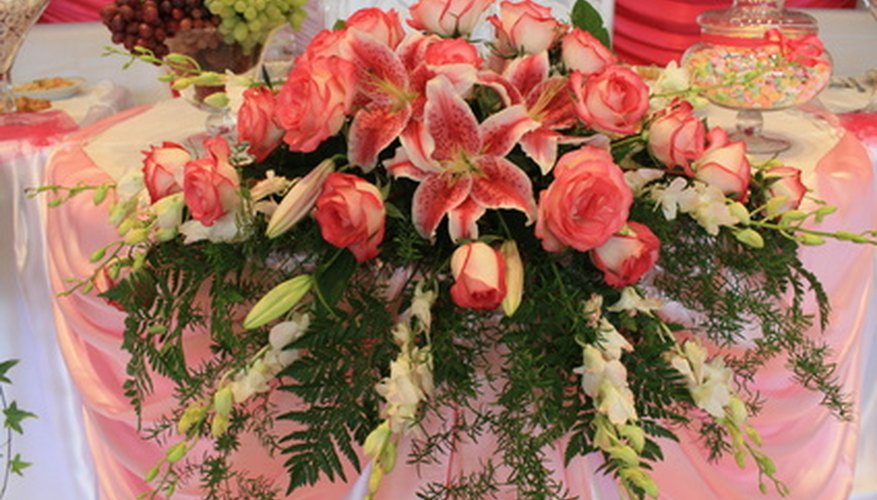 Fresh flower bouquets using flowers from your garden to add a personal touch to parties, weddings, graduation ceremonies and other celebrations. Making a fresh flower bouquet is not difficult, but it does take a few hours since the flowers get soaked in a preservative. Experiment with different colors and textures, combine greens and flowers or use only one type of flower for a simple bouquet.
Cut flowers for your bouquet in the morning while it's cool. If possible, select flowers that complement the theme colors of your celebration or a favorite flower of the guest of honor. Select flowers that are just open instead of those that have been open for a few days, since they will hold up better. Simple elegant bouquets use one type of flower, such as calla lilies, roses or mums, while laid-back bouquets combine greenery such as ferns or plant leaves with several types of flowers. Use whatever is growing in your garden.
Mix a flower preserving solution in a vase following the manufacturer's instructions; you can purchase flower preserving solution online or at a florist. Then soak the stems in this solution for several hours.
Remove your stems from the flower preserving solution and discard it. Gather the stems together to form your bouquet, arranging them to your liking. Turn each flower so its head faces outward, and camouflage any imperfect blossoms in the center of the bouquet. Try the stems in several positions until you have one you prefer; there's no right or wrong way to gather a bouquet.
Wrap floral wire around the stems to hold them together, working loosely enough to avoid bruising the stems but tightly enough that the wire holds the bouquet in place. Cut the wire one inch from the bottom of your bouquet.
Wrap the bottom inch of the bouquet in floral tape. Then wind the floral tape around the stems to cover the wire. Cut the tape off at the top of the bouquet.
If you wish, camouflage the tape by wrapping the stems in ribbon. Push a pin into the ribbon to hold it, then wind around the tape, overlapping the ribbon so you don't leave gaps. Pin the ribbon again at the bottom, or use a hot glue gun to secure the ribbon instead of pins.
Things You Will Need
Scissors

Flower preserving solution

Water

Vase

Floral wire

Floral tape

Pins (optional)

Ribbon (optional)

Hot glue gun (optional)
References