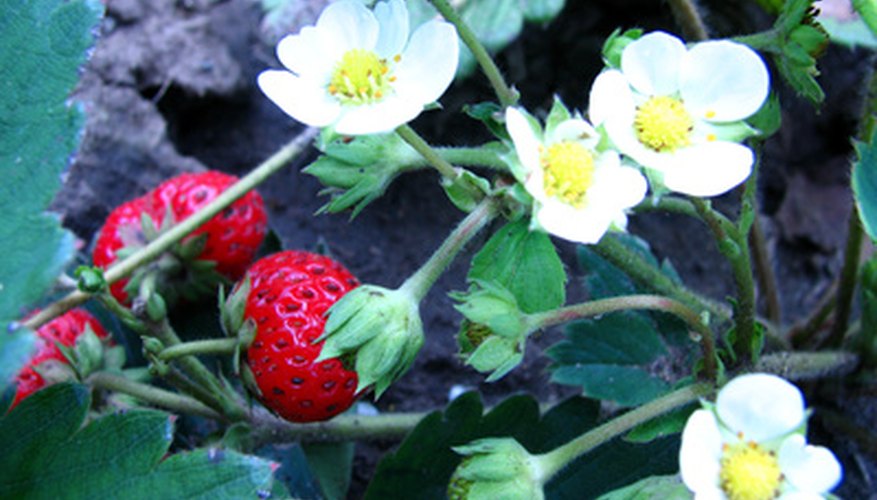 Strawberry in garden image by Olga Chernetskaya from Fotolia.com
Strawberries perform well in Ohio when planted in full sun location and in well-draining soil. A sunny location on the north side of the house works well for strawberry plants. Ohio State University notes that the ideal time for planting berries in that state is from April 15 to May 15. Select a recommended variety for Ohio planting from the list provided by Ohio State University. Recommended cultivars include Tristar, Redchief, Earliglow, Kent, Surecrop and Delite.
Soak bare root strawberry plants in water for 20 to 30 minutes before planting. If you have strawberry starts and not bare root plants, skip this step.
Prepare a hole for each strawberry plant that's twice the size of the plant's root ball, using your shovel. Remove any rocks or weeds from the hole. Leave 18 to 30 inches between plants.
Remove container strawberries from their containers and massage the root ball with your fingers to break it apart. Place one plant in each hole. If planting bare root strawberries, remove the plants from their container of water and place one plant in each hole. The plants should sit so that the roots are in the soil and half of the crown rests above the soil.
Cover over the hole with soil until the strawberries are planted. Do this for all plants.
Water the newly planted strawberries until the soil becomes saturated and compresses around the base of the plants.
Things You Will Need
Shovel

Strawberry plants

Water
References
Resources