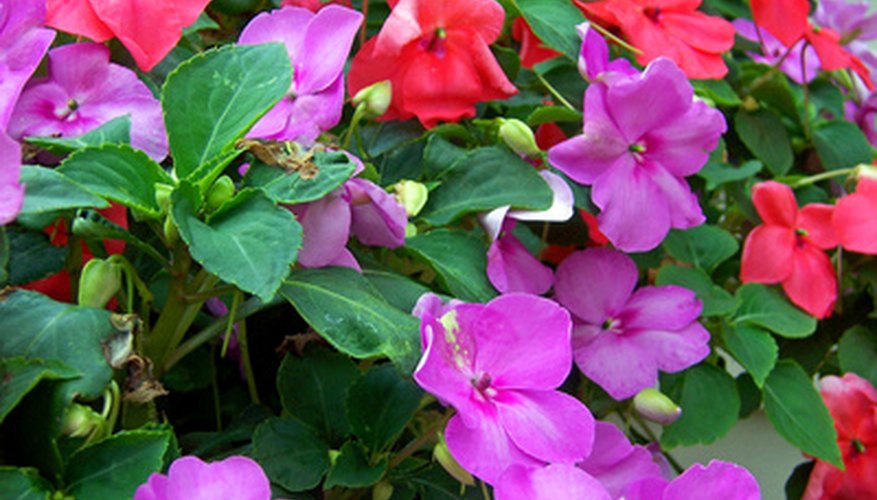 Growing flowers under trees can be challenging because many flowering plants can't survive the figh for sunlight, water and nutrients. Several varieties of flowering plants can thrive with light restrictions however, bringing a spark of color to the darkness. Before selecting plants, analyze the degree of shade under the tree. Shade categories include light, partial or full shade determined by the number of hours of sunlight received daily. Plant flowers appropriate for the area's restricted light category.
Impatiens
Impatiens plants produce a burst of colorful flowers from early summer until fall. Bloom colors include white, oranges, pinks, purples and reds, in either solid or bi-color. Sizes range from 9 to 30 inches tall and spread up to 30 inches depending on the variety. Impatiens plants flourish in partial shade. An annual, its life span is one growing season.
Tulips
Tulips thrive under deciduous trees or in partial shade. Blooms open early, before tree leaves bud in early spring. Avoid planting under evergreen trees, as tulips need six to eight hours of sunlight during the early growing season. Avoid planting with maples, beeches and dogwoods as their roots will starve tulips of nutrients and water. Tulips are a perennial, surviving and spreading for many years.
Wild Violet
Wild Violet dominates in the shade. Considered a weed, wild violet will take over a lawn if not contained. One of the few flowers that can grow in full shade, many gardeners are willing to accept the challenges that come with these beautiful perennial flowers. Avoid using pesticides on wild violets if you plan to consume their edible blooms.
Fuchsia
Fuchsia is an annual that will flower in partial shade. PPreferring cool temperatures, fuchsia does best when planted where it will receive morning sun and afternoon shade. Plants reach heights of 1.5 to 3 feet and bloom throughout the summer months.
Foamflower
Foamflower, a perennial, does well in light or dense shade. The vigorous-spreading foliage provides a thick ground cover. Delicate white flowers shoot up above the underlying foliage 6 inches in April and May. Foamflowers prefer moist, cool and well-drained soil. They prefer cool climates.