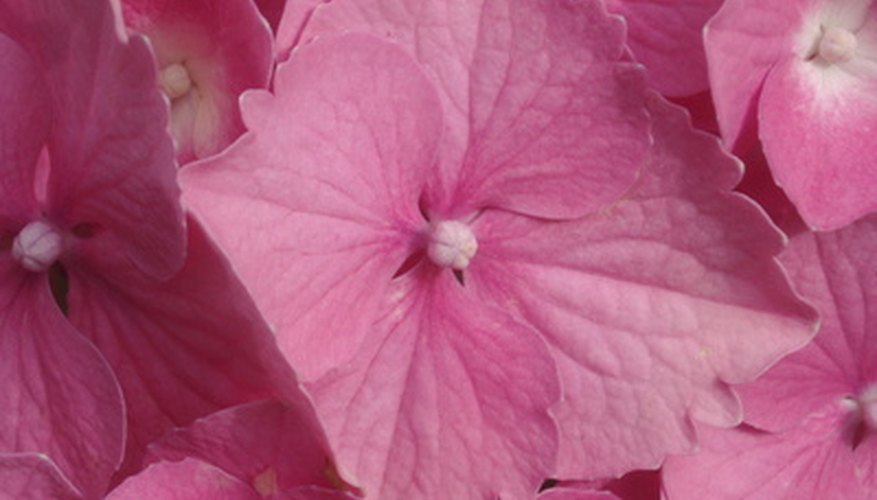 Hydrangea plants are lovely additions to any garden or landscape. With their large, snowball-like blooms, and thick green foliage, they are sure to provide you with lush blooms throughout the growing season with the proper care. Pruning at the end of each growing season, will allow the hydrangea plant to survive the harsh winter climate and produce large, healthy blooms next growing season, according to online resource Hydrangeas, Hydrangeas.
Fill a bucket with three parts water, and one part bleach.
Wash the pruning shears in this mixture before pruning the first hydrangea, and before moving onto to another hydrangea plant you intend to prune.
Identify your hydrangea. Different hydrangeas require different pruning methods. Pink or blue hydrangeas are generally mopheads or lacecaps and should only be pruned just after they flower. These hydrangeas, as well as the oakleaf variety, bloom the next season on last season's wood, so should not be pruned back any later than July.
Prune the canes of the peegee or Annabelle hydrangea(s) back to the ground, after the first frost of winter, leaving 1 or 2 inches of the cane standing above ground level. This will allow you to see where the hydrangea is located for winter lawn maintenance, and the short cane can easily be covered with hay for proper protection from harsh winter climate.
Deadhead old flowers or cut fresh flowers for arrangements at any time.
Remove several canes of older hydrangea shrubs at soil level to reinvigorate the plant. According to Fine Gardening magazine online, regular removal of old woody canes can help older plants produce larger flowers.