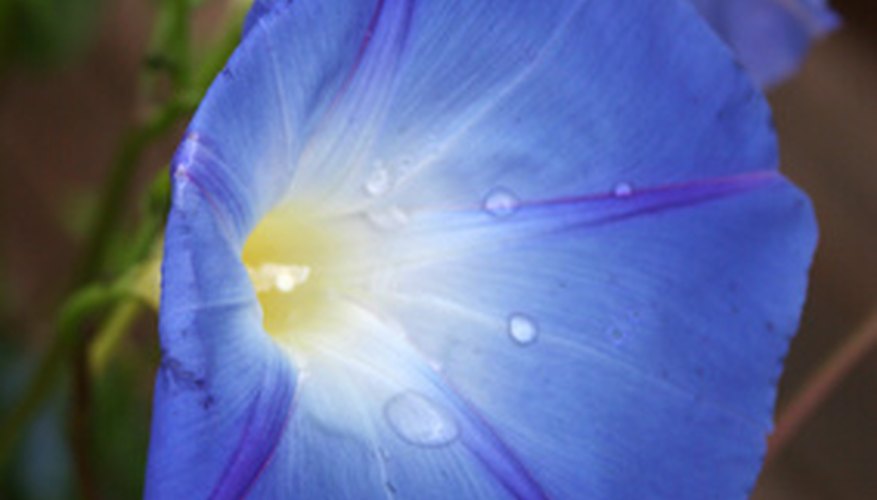 Hanging baskets allow gardeners to introduce colorful flowers into tight spaces, balconies and porches. The best annual flowers for hanging baskets have long trailing stems that allow the flowers to cascade down over the side of the basket. Gardeners can mix and match flowers for texture, shape and color to create the most interesting arrangement. Alternately, combine annual flowers with grasses or green plants for contrast.
Verbena
While technically a perennial, verbena (Verbena x hybrida) is most often grown as an annual and works well in hanging baskets. Verbena has flat or rounded flower clusters that may be violet, white, purple, yellow, crimson or red. The small flowers have a tiny white dot or eye in the center. Floridata notes that training verbena plants may grow 1 to 2 feet long. Verbenas do best in full sun, but like some shade in hot summer weather. Gardeners in zones 5 to 9 can grow verbena as an annual, and gardeners in zones 8 to 10 can grow this plant as a perennial.
Begonia
Trailing varieties of begonia work very well in hanging baskets. The plants have large green, glossy foliage that may be dappled with shades of light and dark green. The bright ruffled flowers grow in clusters. The American Begonia Society notes that most types of trailing varieties have either white or pink flowers. The flowers bloom all summer long.
Morning Glory
Morning glory vines (Ipomoea tricolor) trail along the rope on your hanging basket and trellis over the sides of the basket, hanging down in the air. The flowers vary in hue from blue to purple and have a white center. The flowers can reach up to 6 inches in size and are trumpet-shaped. While grown as a perennial in zones 10 to 11, morning glory works as an annual in other regions. Hanging your morning glory in full sun creates the most flowers.
Fuchsia
Fuchsia (Fuchsia x hybrida) has long drooping stems and tube-shaped flowers that make it ideal for hanging baskets. The plants flower all summer long. Fuchsia dislikes high heat and will not flower above 76 F, according to Clemson University. Fuchsia flowers may be pink, red, white or purple; many flowers have two colors. The flowers have four petals with a tiny red or white stamen that emerges from the center of the flower petal.