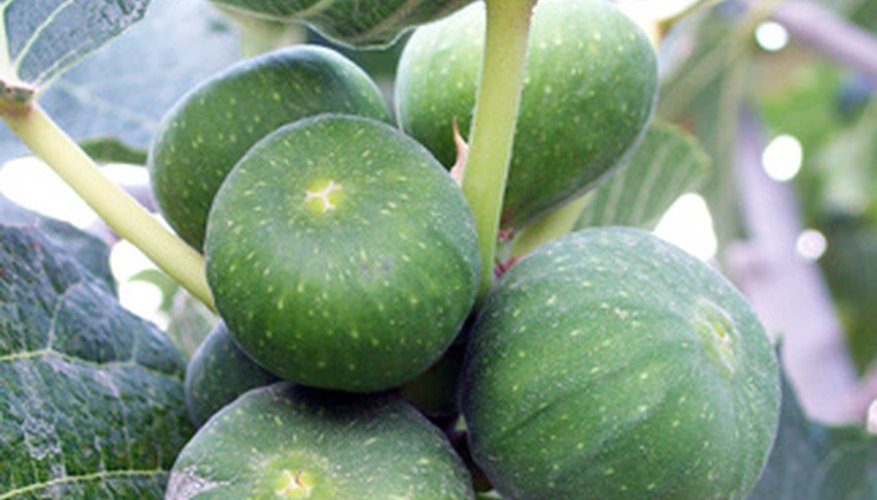 Native to Asia, the fig made its way through the Mediterranean region, then to Mexico and eventually California. Figs require a subtropical climate and grow well in California, Texas, Louisiana, Florida and other southern states. Gardeners in northern climates can attempt growing fig trees in their yard if they provide adequate cold protection. On average, fig trees reach 10 to 30 feet in height. Figs come in green or purple skin and are sweetest when soft.
Brown Turkey
Also called Texas everbearing, brown turkey displays dark purple to brown flesh. These figs are large, with reddish pulp and few seeds inside and a strong, sweet flavor. The tree is fairly cold hardy and will continue to produce fruit on new-season growth if injured by frost. According to Texas A & M, brown turkey has the longest producing season of any fig cultivar. This fig produces two crops, the smaller spring breba crop and the main summer crop.
Kadota
Kadota is grown commercially throughout California for dried figs. This fruit is yellow to green-fleshed with white seeds inside and a grassy sweet taste. Like brown turkey, the fig tree will produce fruit on new growth if injured by cold damage. In dry or hot climates, kadota figs become rubbery; they aren't recommended for planting in southern Texas and other hot areas.
Black Mission
Grown extensively in California, the black mission is a sweet-tasting fig with dark purple skin and amber-pink flesh. This tree produces both a large breba crop and a big summer crop, making it a good choice for home gardeners.
Celeste
Celeste figs are very cold hardy and recommended for planting in areas that do not typically support fig trees. These figs grow up to 3/4 inch long and are pear-shaped. Their skin in purplish and their flesh is white to pink with few seeds inside. Celeste fig trees are very productive; however, they typically produce only the summer fig crop, not the smaller breba crop. Celeste figs are quite sweet and work well in desserts, jams and chutneys.
Adriatic
The Adriatic is another green-skinned fig that provides both a breba crop and a main crop. The fig's flesh is purple to dark red and the skin can be tinted yellow. Adriatic figs have a sweet flavor and are large in size and fairly squat.