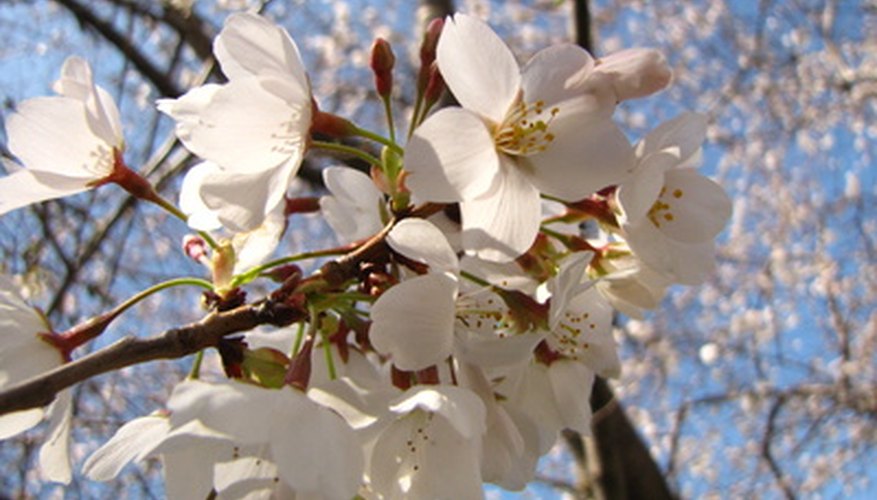 Plant some trees to add interest to your garden. Common additions to yards and landscapes, trees are popular for their shade, ornamental beauty and ability to provide a natural screen with their foliage. According to the Arbor Day Foundation, planting trees by your house can also help reduce energy bills. Choose the best trees to grow by a house by considering your particular needs in terms of the looks, size and lifespan of a tree.
Flowering Dogwood
Flowering dogwood trees offer ornamental interest with the arrival of each season. In spring, these trees produce an explosion of flowers that stay in bloom for two to four weeks. The flowers disappear by summer, leaving behind dense, dark green foliage. Fall is characterized by purplish-red foliage and clusters of red fruit. Although not edible, the fruit adds to the ornamental detail of the tree. When winter weather arrives the foliage and fruit are replaced by an attractive silhouette. Flowering dogwoods can reach 35 feet tall in the wild, but usually grow to be 15 to 25 feet tall when planted in yards and residential spots. Plant them in moist, well-drained soil in a partially shady spot. Flowering dogwoods grow quickly and produce light shade. Consider this tree for planting near a porch, patio or as a background in a landscape. These trees are hardy in USDA Hardiness Zones 5 through 9.
Eastern Redbud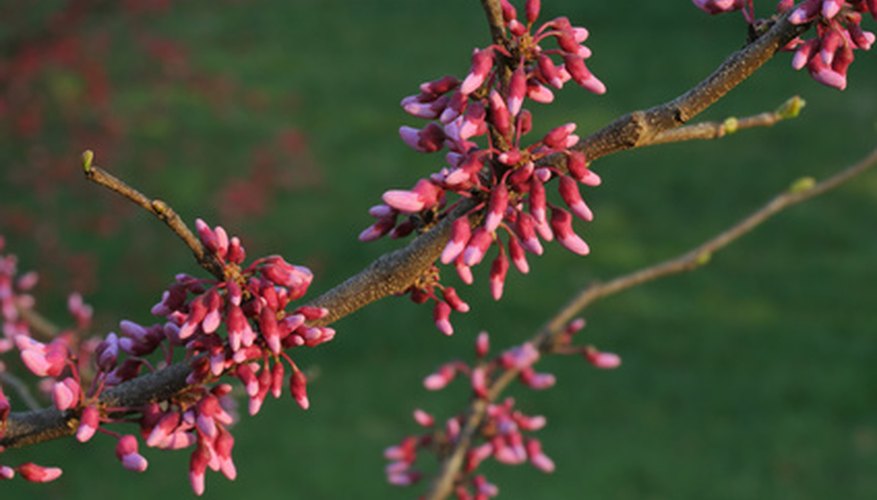 Eastern redbud trees boast striking flowers and foliage. The pinkish-red flowers appear in spring and last for two to three weeks, giving way to abundant, dark-green foliage in summer. The foliage turns yellow-gold in fall. They can reach 20 to 30 feet tall, depending on their geographical location and conditions. They are popular yard trees and shrub borders and they provide light shade. Plant them in loamy soil in partial shade. Easter redbuds can also grow in full sun, since they are very drought tolerant. These trees are hardy in USDA Hardiness Zones 4 through 9.
Bradford Pear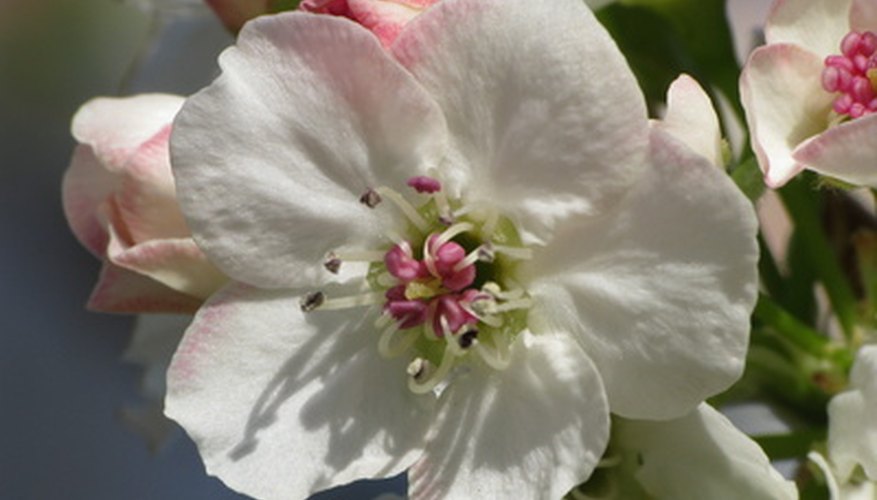 Famous for their cloud of white blooms, Bradford pears are popular yard and landscape trees. The blooms appear in spring and then give way for dense, green foliage in summer. The fall foliage is showy and ranges in color from orange to red or maroon. Bradford pears grow quickly and serve many purposes. They provide shade, make good screen trees and can even be grown in planters. Plant them in sandy or loamy, well-drained soil in full sun. They are hardy in USDA Hardiness Zones 5 through 9.